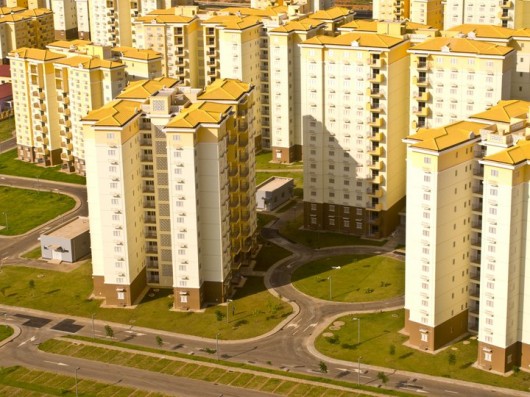 Les grands voyageurs auront reconnu le style assez typique des immeubles chinois. Et ce sont bien des immeubles chinois.
Mais vous êtes en Angola ! Vous êtes même dans le ville Nova Cidade de Kilamba à une trentaine de kilomètre de la capitale. Cette ville a été construite par les entreprises chinoises en échange d'un accès prioritaire aux ressources naturelles du pays. Mais l'accord ne devait pas inclure les habitants car cette ville est une ville fantôme. Elle peut accueillir 500.000 personnes mais presque personne n'y vit car les prix sont bien trop élevé pour les habitants angolais! Un vrai gâchis.
This is a ghost town ! The ghost town of Nova Cidade de Kimbala in Angola.
If the buildings look chinese, it's because they are: they were built by a chinese state company to get a priority access to the country's natural resources. But it seems that, defining the project, nobody thought about the selling price of the apartments: they are much too expensive (120.000 to 200.000 dollars) for the inhabitants who earn around 2$ a day. No doubt the city remains empty.
[slideshow]
Place/ Nova Cidade de Kimbala, Angola
Information/ LeMonde.fr