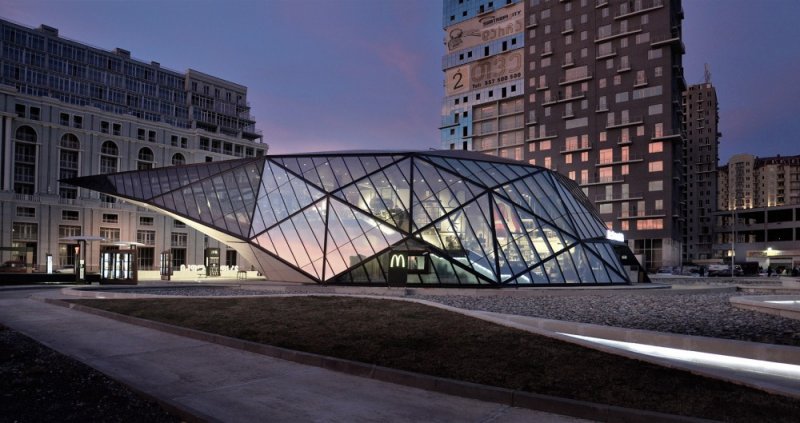 Beautiful building, isn't it ? This is one of the new addition in McDonald's new experiential strategy. McDonald's has started to integrate client experience schemes (mainly interior and exterior architecture) into its development strategy. Not only are the new McDonald's more beautiful, they also fit better with their environment and minimise their ecological footprint.
For example, this brand new McDonald's in Batumi, Georgia, has been conceived to integrate smoothly a gas station  thanks to its form and the use of water and plants as natural fumes filters.
Belle réalisation, n'est-ce pas? C'est l'une des nouveaux bâtiments de la nouvelle stratégie expérientielle de McDonald's. En effet, la chaîne de fast-food a commencé à intégrer la notion d'expérience client (principalement au travers d'intérieurs et d'architecture extérieure renouvelés) dans sa stratégie de développement. Les restaurants sont non seulement plus beaux, ils sont également mieux adaptés à leur environnement et sont conçus pour réduire leur empreinte écologique.
Par exemple, ce nouveau McDonald à Batoumi, en Géorgie, a été conçu pour intégrer en douceur une station d'essence, grâce à sa forme et à l'utilisation de l'eau et les plantes comme filtres naturels des gaz d'échappement des voitures.
Place/ McDonald's restaurant, Batumi, Georgia/ Georgie