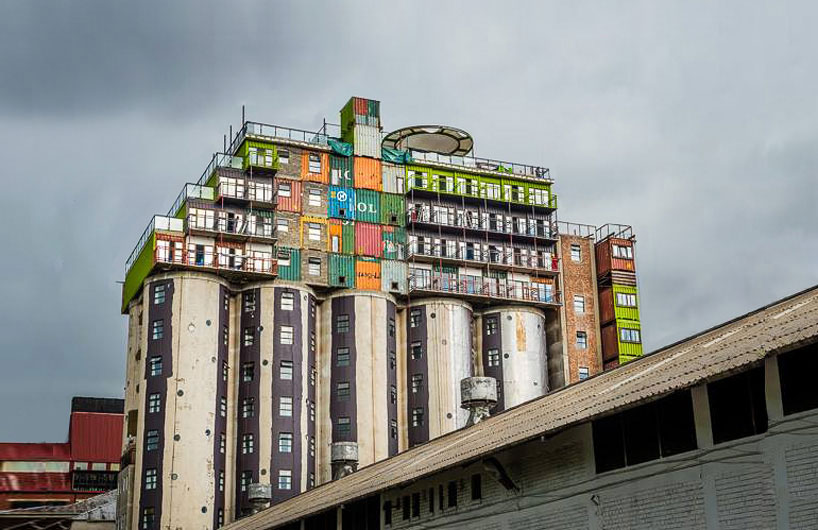 Every booming city is desperate to provide young people with decent homes during their studies. Johannesburg has found a cost-effective and qualitative way to create new spaces for student residences. The Milo Junction  Residence has set up extra spaces in transforming old grain silos into studios and apartments and adding containers at the top of the building for still extra spaces. More accommodations, modern spaces and amazing views. What more would anyone want ?
Montreal has chosen another way to transform grain silos. See how.
Chaque capitale dynamique se démène pour fournir aux jeunes des logements décents lorsqu'ils viennent faire leurs études. Johannesburg a trouvé un moyen original et rentable de créer des espaces supplémentaires pour les résidences étudiantes. La Résidence Milo Junction a transformé des silos à grain en studio et appartements et ajouté des conteneurs au sommet de leur bâtiment, créant ainsi davantage de place. Plus d'hébergements, des espaces modernes et une vue imprenable. De quoi pourraient-ils avoir besoin d'autre ?
Montreal a choisi une autre voie pour réutiliser d'anciens silos à grain. Découvrez la transformation en cliquant ici.
Place/ Milo Junction Silo Residence, Johannesburg, South Africa/ Afrique du Sud
Architect(e)/ citiq
Information/ Designboom