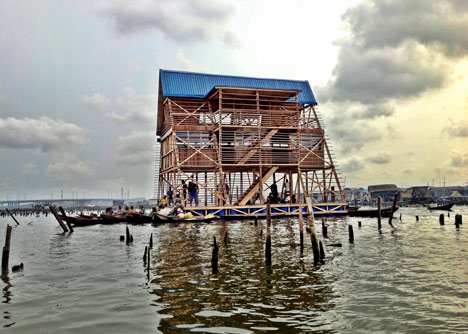 Floating, for sure, but to what extent ? This place is another proof that Africa is on the innovative track. Check it out!
Lagos is known in Africa for one of the most crowded town and it lagoon, house to a large very poor community. Getting to school, for the children of this poor neighborhood, entirely on stilts or boats, is out of the question: too complicated, too costly. This floating school solution is the simplest, yet the most intelligent place for those children. It can host 100 children is separated areas. A wonderful initiative.
C'est flottant, c'est sûr, mais dans quel but? Cet lieu est encore une  preuve que l'Afrique est sur ​​la piste de l'innovation, car ce lieu est une école.
Lagos est connu pour être l'une des villes la plus peuplée d'Afrique et sa lagune est malheureusement connue pour la population de pauvres et de délaissés qu'elle abrite.  Pour les enfants de ces familles, aller à l'école, c'est hors de question: trop compliqué, trop coûteux. La solution apportée par cette école flottante est la plus simple et la plus intelligente à la fois. Il peut accueillir 100 enfants dans des espaces séparées. Une très belle innovation.
Place/ Makoko Floating School, lagos, Nigeria
Architect(e)/NLé
Information/ dezeen