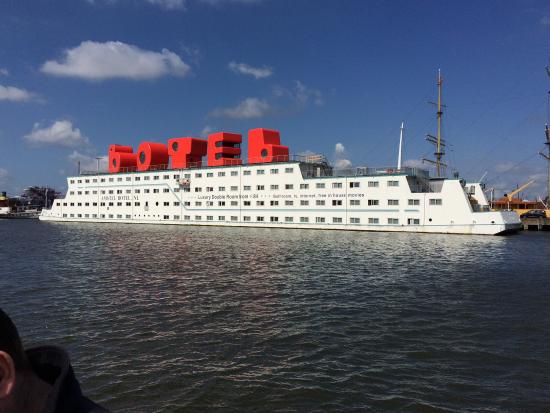 If I told you those letters, on the top of the boat, were not letters … What could they be ?
To rejuvenate the Amstel Boat hotel offer, the company has chosen a rather disruptive way: they created a Botel on the top of the boat where each letter is an hotel room. Visual and experiential. Perfect.
Si je vous disais que les lettres sur le dessus du bateau, ne sont pas des lettres … Que pouraient-elles être?
Pour rajeunir l'offre des bateaux-hôtel Amstel, l'entreprise a mis en oeuvre une idée assez innovante: ils ont créé un "Botel" sur le pont supérieur du bateau. C'est-à-dire que chaque lettre est une chambre d'hôtel. Une idée visuelle et expérientielle. Parfaite.
Place/ Amstel Botel
Architect(e)/ MMX Architects
Information/ Carnet de notes