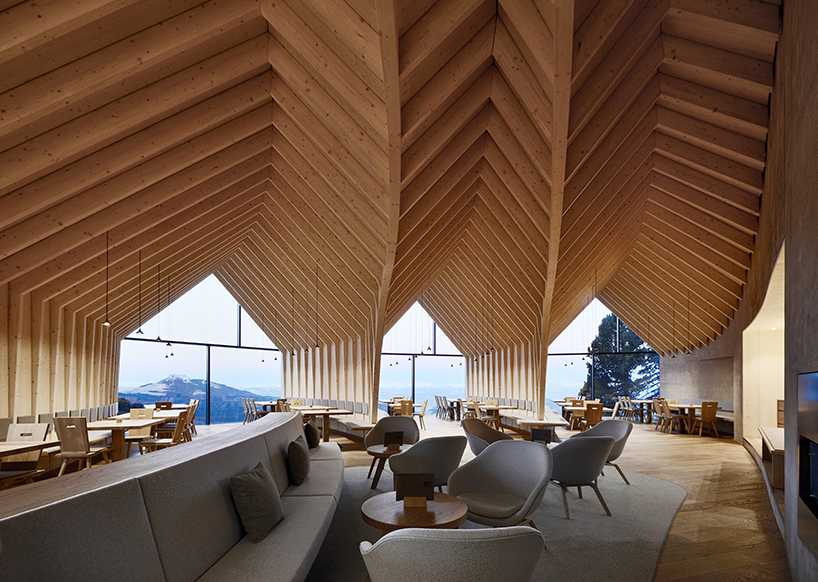 The alps are beautiful, the Dolomites are gorgeous. And this restaurant is about to add to this beauty.
The Oberholz Moutain hut is a splendor: perfectly inserted in the moutain scenery and structure, the restaurant opens on three branches, each with a different view, in a form that seem to blend with the mountain. All in timber, designed in sloop shaped, the high roofs create a sensation of serenity and calm, reinforeces with the huge windows . An outside terrace allows cliens to see the ski riding slopes that surround the place.
Les Alpes sont magnifiques, les Dolomites sont sublimes. Et ce restaurant est sur le point d'ajouter à cette beauté, si c'est possible.
Le restaurant Oberholz Moutain Hut est une splendeur: parfaitement inséré dans le paysage et la structure de la montagne, le restaurant s'ouvre en trois branches, chacune avec une vue différente. Conçus en bois brut et en forme ronde, évoquant les pistes de ski, les hauts toits créent une sensation de sérénité et de calme, encore renforcé par les immenses fenêtres. Une terrasse extérieure permet aux cliens de voir les pistes de ski qui entourent le lieu.
Place/ Mountain Hut restaurant, Oberholz, Italy
Architect(e)/ peter pichler architecture and pavol mikolajcak
Information/ designboom