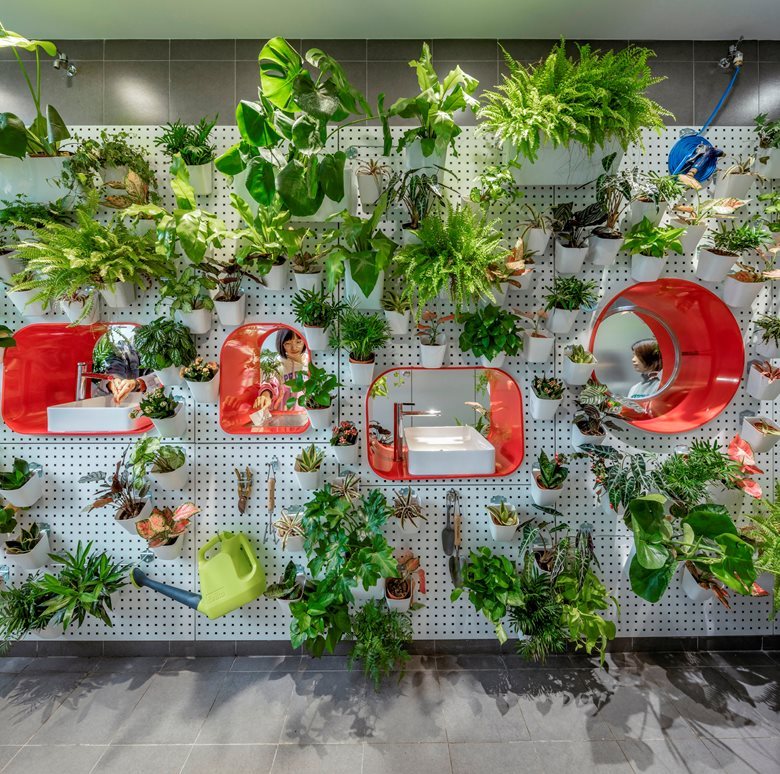 This is no plant store, no kindergarten. But a new way to look at a usually very private place.
This beautiful place is a genderless toilet in a working office. To improve wellbeing in this very utilitarian, yet absolutely necessary place, the architectes have chosen to bring together men and women toilets, to improve space and conviviality. And adding plants in the center creates a point of interest and a reason to discuss. See-through basins and wall openings push people to interact and taking care of plants creates a natural bond between the co-workers of this office.
Ce bel endroit, ce sont des toilettes non genrées au sein d'un bureau. Pour améliorer le bien-être dans ce lieu souvent négligé alors qu'absolument nécessaire, les architectes ont choisi de réunir les toilettes hommes et femmes pour agrandir l'espace et la convivialité. Et l'ajout de plantes au centre crée un point d'intérêt et une raison d'engager la conversation. Les lavabos traversants et les ouvertures poussent les gens à interagir. Enfin, prendre soin des plantes crée un lien naturel entre les collègues de ce bureau.
Place/ PP Garden, Beijing, China
Architect(e)/ People's Architecture Office
Information/ archilovers