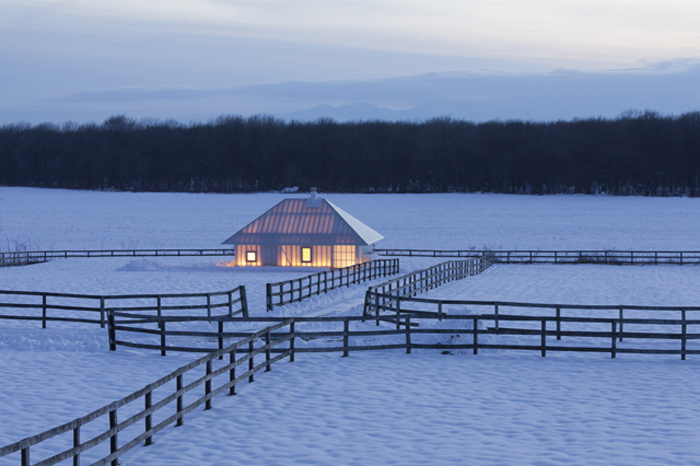 Vous êtes sous la neige dans l'île d'Hokkaido au Japon où l'architecte Kengo Kuma a présenté une maison experience sur le thème de l'intégration de la maison et de l'environnement, dans des conditions extrêmes (le projet "Même"). Au-delà de la beauté immédiate du lieu, la maison est extrêmement innovante : La structure extérieure de la maison est faite d'une membrane double, tendue sur une simple structure de bois, qui isole naturellement l'intérieur tout en permettant à la lumière d'entrer. La ventilation et l'air conditionné sont directement intégrés entre les deux membranes. La maison est chauffée en géothermie. N'est-ce pas magnifique quand innovation, respect de l'environnement et beauté vont ensemble ?
You are in the Hokkaïdo island in Japan where the architect Kengo Kuma has presented an experimental house, the "Même" project. The house is of course obviously beautiful, but it is also very innovative:  it uses a two-layer permeable membrane, stretched over a wooden frame as material for the walls and cover, which provides insulation and natural lighting inside the housing. The ventilation and air conditioning installations are within this membrane. The house uses geothermal heating system.
Isn't life great when innovation, environmental respect and beauty go together ?
[slideshow]
Place / Memu Meadows, Taikicho, Hirogun, Hokkaido, Japan/Japon
Architect(e)/ Kengo Kuma & Associates
Information/ Metalocus.es