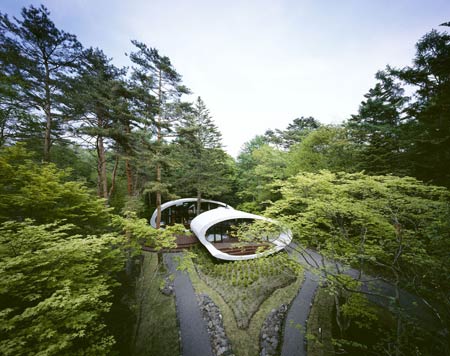 Les lieux s'interrogent profondément sur leur intégration dans la nature, qu'elle soit urbaine ou non.
Cette maison, construite au milieu d'une forêt, a choisi de coexister de façon pacifique avec elle. En l'enveloppant, en se lovant autour de ses arbres et de ses petites collines, elle fait corps avec la forêt tout en la respectant. Et cela crée une maison magnifique, aux volumes arrondis très agréables et à l'ouverture constante vers l'extérieur.
Places architects wonder deeply about how to integrate their work with nature, or cities.
This house, built in the middle of a forest, chose to coexist peacefully with it. Like a wrap around its trees,  coiling around its small hills, it is "in sync with nature",  with the forest, respecting it. And this creates a beautiful house, with very pleasant rounded volumes and a constant opening towards the beautiful scenery outside.
Place/ Shell House, Karuizawa, Japon/ Japan
Architect(e)/ artechnic
Information/ Luxuryculture