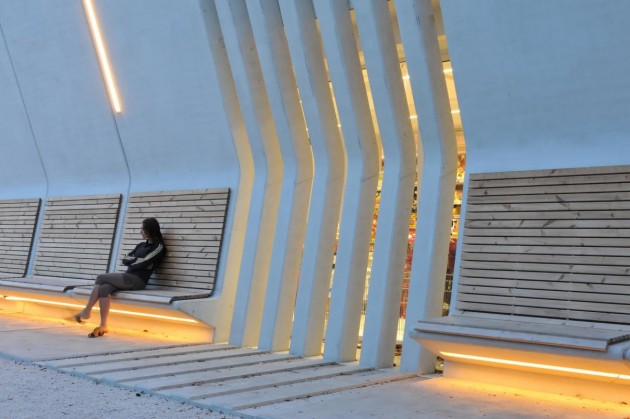 A great place to sit, isn't ?
Well, it is a great -free- addition to a city supermarket ! In Gmunden, directly on Lake Traunsee, the SPAR supermarket decided to create an outdoor sitting area, perfectly adapted to local beautiful surroundings. A free, beautiful sitting place, perfectly adapted to outdoor weather.
Supermarkets and large distribution outlets are often attacked for not doing enough efforts to nicely integrate themselves in the public space. Studies have proven that money spent in those stores directly depends on the time spent there. Then, why not create nice places in which you would like to spend time, sit and relax ? Like this great SPAR supermarket surroundings …
Un endroit idéal pour s'asseoir, n'est-ce-pas ?
Eh bien, ce lieu est la création d'un supermarché ! En Autriche, à Gmunden, directement sur ​​le lac Traunsee, le supermarché SPAR a décidé de créer un salon en plein air le long de ses murs, gratuit, en libre accès, parfaitement adapté au magnifique cadre du lac et à la météo de la région.
Les supermarchés et les grandes surfaces de distribution sont souvent attaqués pour leur manque  d'effort d'intégration architectural dans l'espace public. Des études ont pourtant prouvé que l'argent dépensé dans ces magasins dépend directement du temps qu'on y passe. Alors, pourquoi ne pas créer de beaux endroits où l'on aimerait passer du temps, s'asseoir et se détendre? Comme cette belle innovation des supermarchés SPAR …
Place/ SPAR Supermarket, Gmunden, Austria/Autriche
Architect(e)/ Archinauten
Information/ Contemporist