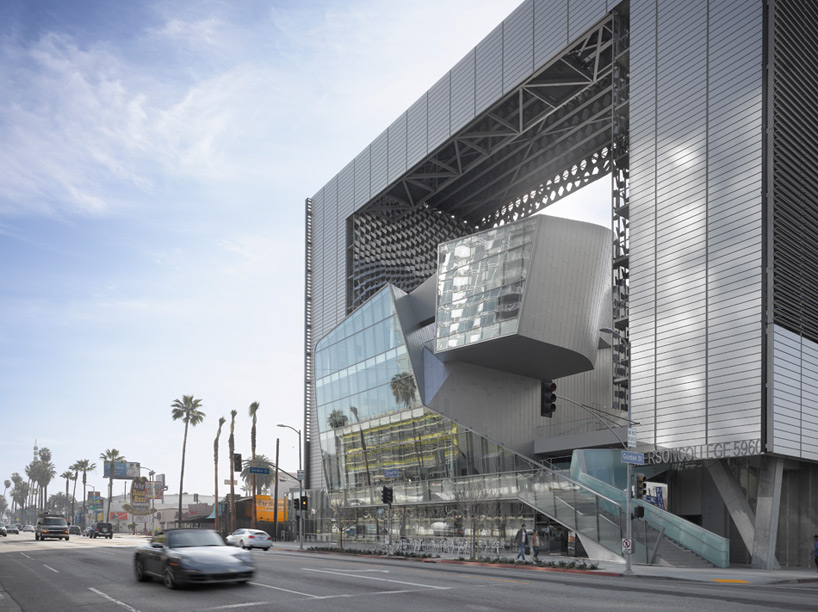 In the center of Hollywood, a new building is making a statement. What is it ? An international corporation headquarter ? Guess some more or check the entire post.
This incredible building is a place dedicated to young people's education: the Emerson College. Concentrating on communication and art studies, it has chosen to express boldness and creativity in its own expression. The open structure has also been chosen to make sure the openness to all communities is understood, as the College also offers lectures and workshops to everyone. Show who you are and you will attract the crowd right for you.
Dans le centre de Hollywood, un nouveau bâtiment a choisi de s'exprimer fortement. Qu'est-ce donc ? Le siège d'une grande société internationale? Eh bien non, pas du tout.
Ce bâtiment incroyable est un lieu dédié à l'éducation des jeunes: l'Emerson College. Spécialisé sur les études de communication et d'art, cette Université a choisi d'exprimer l'audace et la créativité dans ses propre lieux d'expression: ses locaux. La structure ouverte a également été choisie pour exprimer l'ouverture à toutes les communautés, car l'Emerson College offre également des conférences et des ateliers pour tout le monde. Montrez qui vous êtes et vous attirerez la foule qui vous convient.
Places/ Emerson College, Los Angeles, USA
Architect(e)/ Morphosis Architects
Information/ Designboom