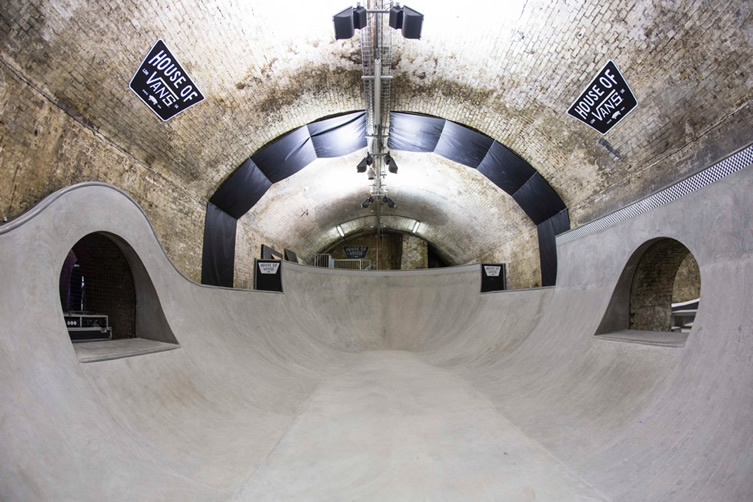 Why did they built a roof above a skate park ? Well, they didn't.
House of Vans built an indoor skate park in Waterloo Station Victorian tunnels in London. And not only a skate park ! House of Vans has taken over 5 tunnels which host different activities : a 850-capacity music venue, a 160-seat cinema and a gallery, as well as two bars and an industrial-looking cafe serving American-style food.  And of course a skate park. A good vibration place totally in tune with s street brand. Well done.
Mais pourquoi ont-ils construit un toit au-dessus d'un skate park ? Eh bien, en fait, House of Vans a plutôt construit un skate park à l'intérieur. Et pas n'importe où puisque la marque a investit d'ancien tunnels victoriens sous Waterloo Station à Londres. House of Vans a investit plus de 5 tunnels pour abriter différentes activités: une salle de spectacle de 850 places, une salle de cinéma de 160 places, une galerie d'art, ainsi que deux bars et un café industriel servant une cuisine américaine. Et bien sûr, un skate park. Un espace parfaitement en ligne avec une marque de streetwear. Bravo.
Place/ House of Vans, tunnels below Waterloo Station, London, UK
Information/ we-heart