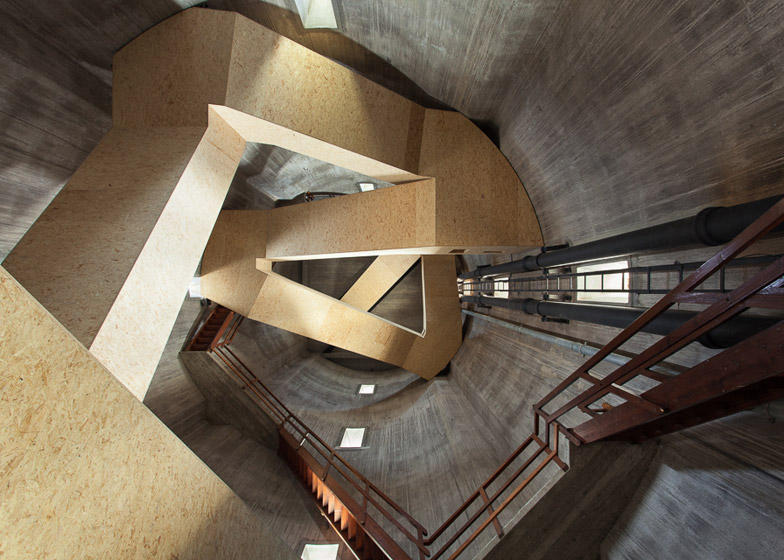 This geometric construction is another great example of building recycling. Guess what it is or follow the link.
You are in a former water tower, recycled into a panoramic viewpoint on a Natural Site in the province of Overijssel in The Netherlands. The great innovation in this place is how the architects have reinvented the inside circulation with this new staircase that crosses the tower horizontally. It allows a complete new reading of the immense space available and creates new space at the top, to host large windows overlooking nature.
If you like viewpoints, there are other great examples: check the Seljord tower in Norway.
Cette construction géométrique est un autre excellent exemple du recyclage des bâtiments. En effet, vous êtes dans un ancien château d'eau, transformé en point de vue panoramique sur un site naturel dans la province d'Overijssel aux Pays-Bas. L'innovation majeure de ce lieu est de découvrir comment les architectes ont réinventé la circulation intérieure grace à un nouvel escalier qui traverse la tour de par en par.Cela permet une nouvelle lecture spatiale et crée un nouvel espace au sommet, permettant d'accueillir de grandes fenêtres donnant sur la nature.
Si vous aimez les points de vue inédits, d'autres magnifiques lieux sont intéressants, comme par exemple la tour Seljord en Norvège.
Place/ Viewpoint Sint Jansklooster, Overijssel, The Netherland
Architect(e)/ Zecc Architecten
Photographies/ Stijn Poelstra
Information/ domus