Looks like a capsule hotel ? Well it is, but with a new connected way to live together. Check-it out.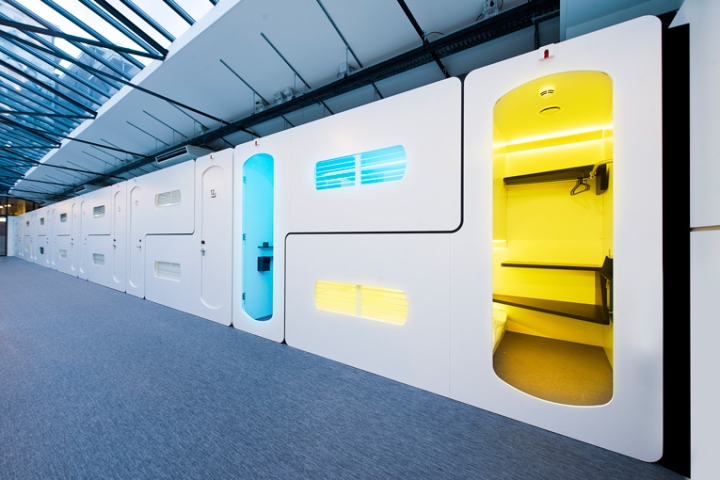 In the City Hub in Amsterdam, you are sleeping in a capsule style hotel: your room is limited to a bed and a small area to put your stuff. In the City Hub, the rooms are even two nested blocks: quite a gain of space! The bathrooms are common to all, one for women, one for men. As usual.
But what makes the place different is the Hub: the central area, both a working space, a bar, a fun zone, in which you can help yourself to any facility (drinks, food …). You just pay with a wristband that is given to you at your arrival. No cash movements … And in this Hub, you can meet with local hosts who can help you organise your stay around the city. Easy!
Dans le City Hub d'Amsterdam, vous dormez dans un hôtel de style capsule: votre chambre est limitée à un lit plus un petit espace pour mettre vos affaires. Dans le City Hub, les chambres sont même deux blocs imbriqués l'un dans l'autre: un gain de place certain pour l'hôtel! Les salles de bains sont communes à tous, une pour les femmes, un pour les hommes. Comme d'habitude.
Mais ce qui rend cet endroit différent est le Hub: il s'agit de la zone centrale, à la fois espace de travail, bar, espace de jeu et de rencontres, dans lequel vous servir de tout (boissons, nourriture …) à condition de payer avec un bracelet interactif qui vous a été donné à votre arrivée. Aucun mouvement d'argent liquide … Et dans ce Hub, vous pouvez rencontrer des hôtes locaux qui vous aident à organiser votre séjour dans la ville. Facile, non ?
Place/ City Hub, Amsterdam, The Netherlands
Information/ mocoloco