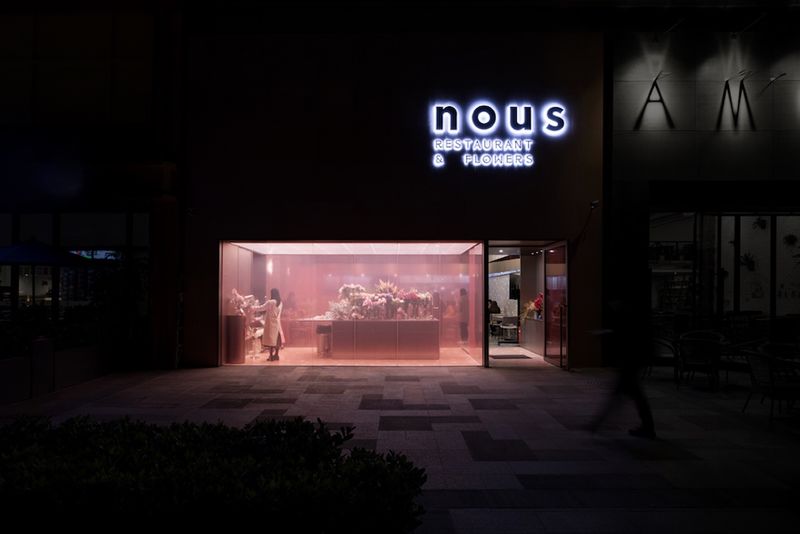 Is mixing a restaurant and a flower shop a strange idea ? This place raises other interesting questions.
This delicate place is a restaurant pairing food and flowers everyday. That's why it seems such a good idea to introduce a flower shop on the premises. And the inside setting is entirely designed to focus on flowers and their colors. This entirely grey scenery becomes the shrine to the flowers on the table and to the flower shop, a translucent cabinet at the entrance of the place.
Setting the flower shop as a intermediary space between the outside and the restaurant also questions what a restaurant should look like from the outside. Is a façade expressive of its sole differentiation, in this case the pairing with flowers, the best solution?
A subtle and intriguing placed definitely.
If you like pink atmosphere, do check our picks during #pinkweek, a co-working space in China, a bar/restaurant in India, a retail flagship and a restaurant in Amsterdam.
Placer au même endroit un restaurant et un fleuriste, est-ce une idée si étrange?
Cet endroit délicat est un restaurant associant mets et fleurs chaque jours. Un fleuriste sur place semble donc une bonne et belle idée. Même le décor a été conçu pour concentrer l'attention sur les fleurs et leurs couleurs. Cet intérieur entièrement gris devient l'écrin des fleurs sur la table et dans l'espace du fleuriste, un cabinet translucide à l'entrée de l'endroit.
Situer le magasin de fleurs en espace intermédiaire entre l'extérieur et le restaurant remet également en cause ce à quoi un restaurant devrait ressembler de l'extérieur. Une façade expressive de sa différenciation (dans ce cas l'association mets/fleurs) est-elle la meilleure solution ?
Un lieu définitivement subtil et intriguant.
Et si vous aimez le lieux roses, découvrez nos posts pendant la #pinkweek, un lieu de co-working en Chine, un bar/restaurant en Inde, un magasin de meubles scandinave et un restaurant à Amsterdam.
Place/ Nous restaurant and flowers, Dongguan, China
Design/ 0321 Studio
Information/ Dezeen