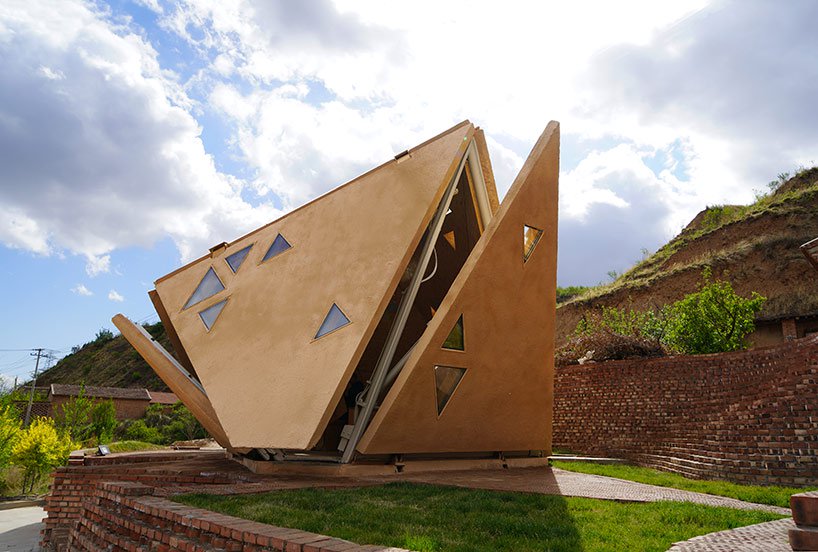 What if your house could open its wall when the weather gets too hot ? Discover the Adaptive Hut.
This tourist reception center has been created by a team led by professor Weiguo Xu of Tsinghua university. this hut is made of 16 irregular panels, three of which are operable using mechanical devices.
When the external temperature is between 16 and 29 celsius (61-84 fahrenheit), the three panels open in different directions, ensuring both ventilation and views. Storms or snowfall can also be detected so that the building is able to protect itself.
Ce centre d'accueil touristique a été créé par une équipe dirigée par le professeur Weiguo Xu de l'université de Tsinghua. Cette maison est composée de 16 panneaux irréguliers, dont trois peuvent être actionnés à l'aide de dispositifs mécaniques.
Lorsque la température extérieure est comprise entre 16 et 29 degrés Celsius (61-84 degrés Fahrenheit), les trois panneaux s'ouvrent dans des directions différentes, assurant à la fois la ventilation et ouvrant vers de nouvelles vues. Les tempêtes ou des chutes de neige peuvent également être détectées afin que le bâtiment puisse se protéger tout seul.
Place/ Tourist Center, China
Design/ Tsinghua university
Information/ Designboom