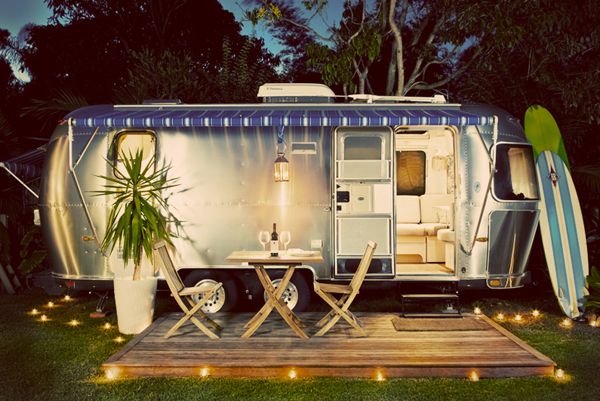 Concept created mixing words CAMPING and GLAMOUR, to describe a campsite where visitors can sleep in tents, caravans or lodges, but don't have to go without domestic amenities including toilets, bathroom and kitchen facilities. Some Glamping sites also provide hotel-quality services, such as room cleaning and room service. They provide outdoor facilities such as pools and children clubs and luxury activities such as spas.
Of course, visitors do not bring and build their tents, lodges or caravans. The Glamping sites are usually situated in the midst of a great natural environment.
First mention of the concept in 2006.
A good example of Glamping in France, created by the luxury entrepreneur Alain-Dominique Perrin: Domaine Les Moulins on the Noirmoutier Island (click on the name to discover the place).
See two examples of Glamping : British-style and Korean-style (click on the styles to discover the places).
Concept imaginé à partir des mots CAMPING et GLAMOUR pour décrire un camping où les visiteurs peuvent dormir dans des tentes, des caravanes ou des "lodges", équipés d'équipements domestiques telles les toilettes, les salles de bains et les cuisines. Certains sites offrent également des services hôteliers, tels le nettoyage de la tente et le room-service Ces lieux sont équipés d'installations de loisirs de plein air tels que piscines et clubs enfants et peuvent proposer des activités plus luxueuses tels que les spas.
Bien sûr, les visiteurs de n'apportent pas leurs tentes et ne les montent pas. Les sites de Glamping sont généralement situés au milieu d'un environnement naturel de haute qualité.
Première apparition du mot en 2006.
Un bon exemple de Glamping en France créé par l'entrepreneur de luxe Alain-Dominique Perrin: Domaine Les Moulins sur l'île de Noirmoutier (cliquez sur le nom pour découvrir le lieu).
Voir deux exemples de Glamping: dans un style britannique et un style coréen (cliquez sur les styles pour voir les lieux).

---