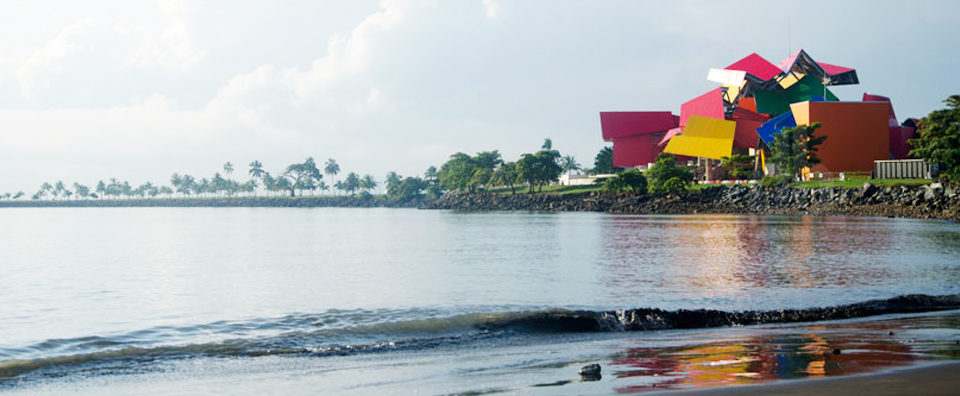 Express biodiversity in a building is a difficult task, and yet an experiential concept begins with deciding what the place, inside and outside, must communicate.Using its architecture to express what he proposes is the most effective way to be attractive. And the best architect to represent homogeneity in diversity is  definitely Frank Gehry ! His new building for the Biomuseo in Panama is a perfect conceptual expression of biodiversity.
This growing trend in museums to express in architecture what it exposes is very visible through another example, more literal: the Corpus Museum in the Netherlands. Click on the name of the museum to see the example.
Exprimer la biodiversité dans un bâtiment est une entreprise périlleuse; et pourtant un concept de lieu commence par décider ce que le lieu doit communiquer et si il peut exprimer ce qu'il propose, c'est le plus efficace. Et si un architecte devait représenter l'homogénéité dans la diversité, c'est bien Frank Gehry. Et son dernier bâtiment, pour le Biomuseo au Panama est une présentation conceptuelle claire de la palette large de biodiversité qui existe dans ce pays.

Cette tendance croissante des musées d'exprimer le contenu par l'architecture se retrouve dans un autre exemple de musée: le Corpus Museum aux Pays-Bas. Cliquez sur le nom du musée pour voir la page.
Place/ The Biodiversity Museum: Panama Bridge of Life, known as Biomuseo, Panama city, Panama
Architect(e)/ Frank Gehry
Information/ Carnet de notes