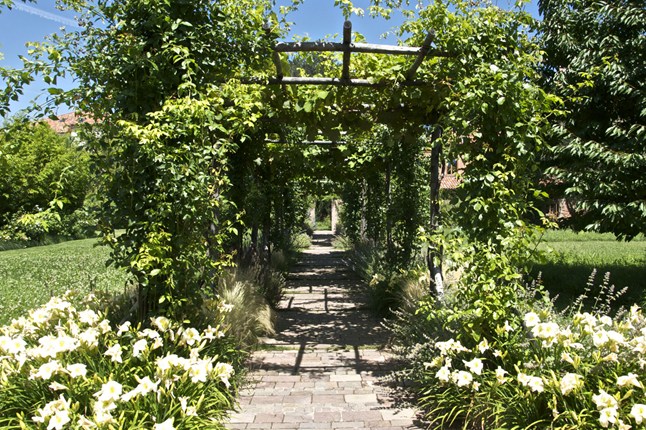 Luxury hotels are always looking for differentiation and innovative offers to conquer new clients. An interesting move is appearing, presenting gardens as a sensitive addition to a luxury hotel experience, just as spa were the service to offer 10 years ago.
Luxury gardens are a great ideas as they directly evoke large spaces and promenades; it states care, artistic capacities and sophistication while building on the nature, planet-conscious respectful attitude that is enlightened in global trends. See the example of the Bauer Palladio hotel in Venice in the images below; the hotel is now proposing 4 magnificent gardens, all different, as a hotel offer and a specific point of difference for the place.
Yet, you need to create a real garden and not an excuse for a garden, as the Bellagio does in Las Vegas, or Dubaï in its city center (click on the hotel or city name to see the post).

Les hôtels de luxe sont toujours en quête de différenciation et l'on constate de nombreuses innovations pour conquérir de nouveaux clients. Une démarche intéressante fait son apparition: et si les jardins, comme les spas l'ont été à un moment, devenaient une nouvelle offre pour l'expérience des hôtels de luxe. Ainsi, l'exemple de l'hôtel Bauer Palladio à Venise présenté dans les images ci-dessous: l'hôtel propose 4 jardins magnifiques, tous différents, comme point d'attraction et de spécificité pour le lieu.
Offrir des jardins luxueux est une très belle idée car les jardins évoquent directement de grands espaces, des promenades; il implique des soins, une vision artistique et une réelle sophistication, tout en s'appuyant sur la tendance actuelle de respect de la nature, pour préserver la planète.
Mais encore faut-il créer un véritable jardin et pas une attraction-jardin, comme le font le Bellagio à Las Vegas, ou Dubaï dans son centre-ville (cliquez sur le nom de l'hôtel ou de la ville pour voir le post).

Place/ Bauer Palladio Hotel & Spa, Giudecca, Venice, Italy
Information/ Condé Nast Traveller