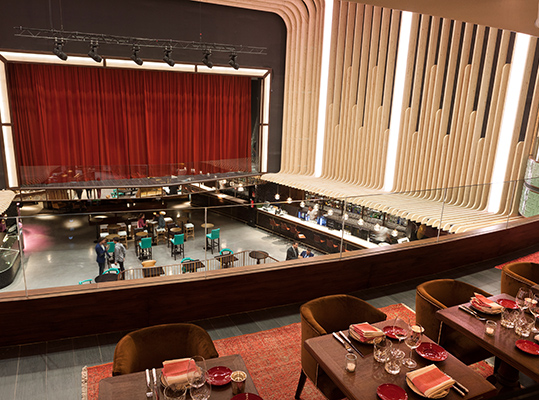 When four Chef decide to create a restaurant out of the ordinary, how do they do ?
In Madrid, four of Spain's most in-demand chefs (Ramón Freixa, Paco Roncero, Pepe Solla and Marcos Morán) are turning a former cinema into a spanish gastronomic palace. The immense space is beautifully designed and resonates with the spanish night atmosphere. And the old stage regularly holds concerts and DJ sets.
Lorsque quatre Chefs décident de créer un restaurant qui sort de l'ordinaire, comment font-ils?
A Madrid, quatre des chefs espagnols les plus en vogue actuellement (Ramón Freixa, Paco Roncero, Pepe Solla et Marcos Morán) viennent de transformer un ancien cinéma en un palais gastronomique espagnol. L'immense espace a été admirablement redesigné et il accueille parfaitement l'atmosphère nocturne espagnole. Et l'ancienne scène accueille régulièrement des concerts et des DJ sets.
Place/ Platea, Madrid
Architect(e)/ Lazaro Rosa-Violan
Information/ wallpaper