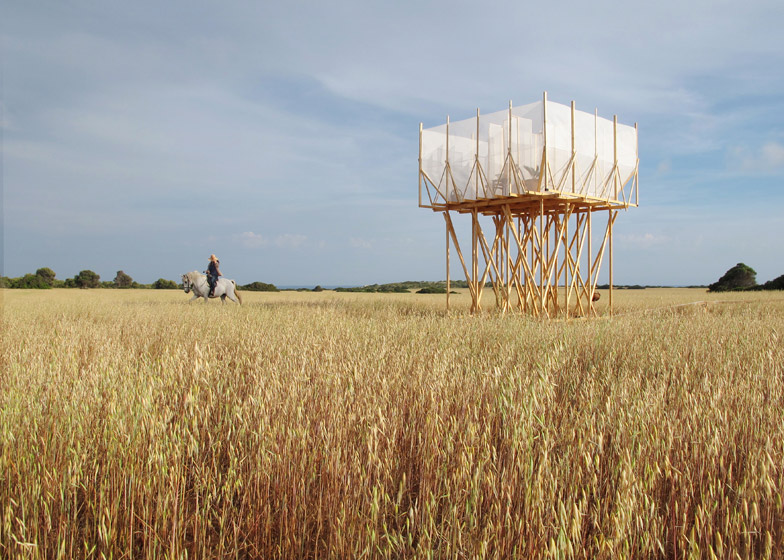 This is no water tower, no storage place, no hunting observatory. It is a much more conceptual place…
You are in front of a horse-riding grooming retreat ! This place is dedicated to help horse-riders come back to a more natural inner-centered pace: a place for stopping, grooming and feeding your horse, and the opportunity for the rider to clean and rest. Created upon a request from an individual recently back to their native land, it demonstrates deep desire to fit back into nature. Incredible idea and place !
Ceci n'est pas un château d'eau, ni un lieu de stockage, et encore moins un observatoire de chasse. C'est un lieu beaucoup plus conceptuel …
Vous êtes face à un lieu de repos pour cavalier! Conçu pour aider les cavaliers à revenir à un rythme plus naturel, centré sur ses sensations, ce lieu vous invite à vous arrêter. Il vous permet de toiletter et nourrir votre cheval, et vous permet également de vous nettoyer et de vous (re)poser.
Créé à la demande d'une propriétaire de retour sur sa terre natale, ce lieu démontre son désir profond de se réinsérer dans la nature. Une idée et un lieu incroyable!
Place/ Horse-riding grooming retreat, Mallorca, Spain
Architect(e)/ Gartnerfuglen studio and Mariana de Delás
Information/ dezeen