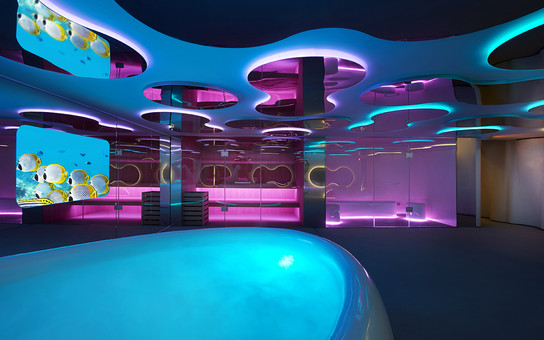 A giant fish tank ? A futuristic spaceship ? A museum ? None of those. Be prepared for a big surprise.
You are in a spa. A futuristic spa for sure, where curves, lights and colours can adapt to your mood or to your treatment. Even the fish are fake: they are a video program you can change completely.Amazing, isn't it ?
Un aquarium géant? Un vaisseau spatial futuriste? Un musée ? Absolument pas.
Vous êtes dans un spa. Un spa futuriste, dans lequel les courbes, les lumières et les couleurs peuvent entièrement s'adapter à votre humeur ou à vos soins. Même les poissons sont faux: c'est un programme vidéo que vous pouvez changer complètement. Incroyable, n'est-ce pas?
Place/ Spa, Sarajevo, Bosnia
Architect(e)/ Simone Michelli
Technical/ Aquaspecial
Photos/ Jürgen Eheim
Information/ Carnet de Notes