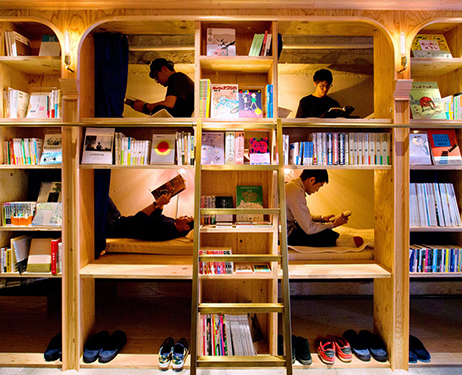 Is this a library ? Well yes, well no … it's complicated.
The Book and Bed Capsule hotel in Tokyo has just extended to Kyoto and it is an interesting concept to look at.
This hotel is a true library – you can not buy books but for a hourly fee, you can stay around and read them all. And it is a true hotel as you can book a night in one of th capsule included inside the book shleves. And you can read yourslef to sleep …
Nice idea, isn't it ?
Est-ce une bibliothèque? Eh bien oui, et en fait non … c'est compliqué.
L'hôtel Capsule Book and Bed de Tokyo vient d'ouvrir une seconde unité à Kyoto et c'est un concept intéressant à regarder.
Cet hôtel est une vraie bibliothèque – vous ne pouvez pas acheter de livres mais pour un tarif horaire, vous pouvez vous installer et lire tranquillement. Et c'est un vrai hôtel que vous pouvez réserver pour une ou plusieurs nuit. Vous dormez dans l'une des capsules intégrées dans les rayonnages de livres. Et vous pouvez lire jusqu'à tomber de sommeil …
Belle idée, n'est-ce pas?
Place/ Book & Bed Capsule Hotel, Tokyo and Kyoto, Japan