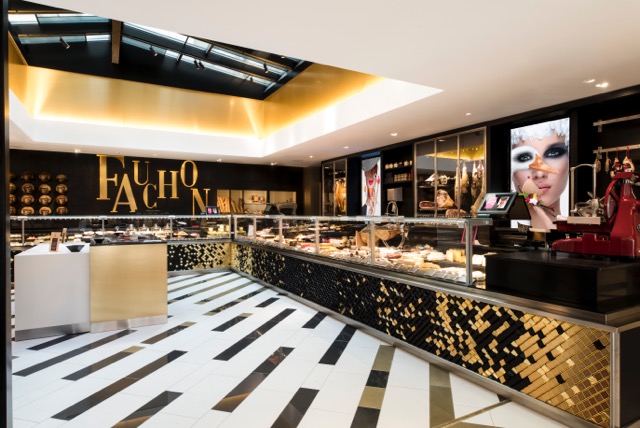 For Christmas, a revamped Paris Gourmet institution has openned to the public after 6 months of renovation. Hello gorgeous !
The new Fauchon flagship is a Glam shrine dedicated to Gourmet food. With its bold Parisian chic, Fauchon has created different environment to present all its food universe. A touch of gold for the finest French specialties (foie gras, cheese and truffle) and bonbon colours for its delicious pastry. It was about time for Paris to have a Magnifique gourmet food shop.
Le cadeau de Noël de Paris a été le nouveau flagship d'une marque phare de la gastronomie française.
Le nouveau magasin flagship de Fauchon est une ode Glam à la gastronomie. Avec son chic parisien audacieux, Fauchon a créé des univers spécifiques pour présenter chacun de ses univers gourmet: une touche d'or pour les plus belles spécialités françaises (foie gras, fromage et truffe) et des couleurs bonbon pour sa délicieuse pâtisserie. Il était temps pour Paris d'avoir un magasin qui magnifie les produits et les savoir-faire de la gastronomie française.
Place/ Fauchon, Paris, France
Architect(e)/ Bruno Leroy