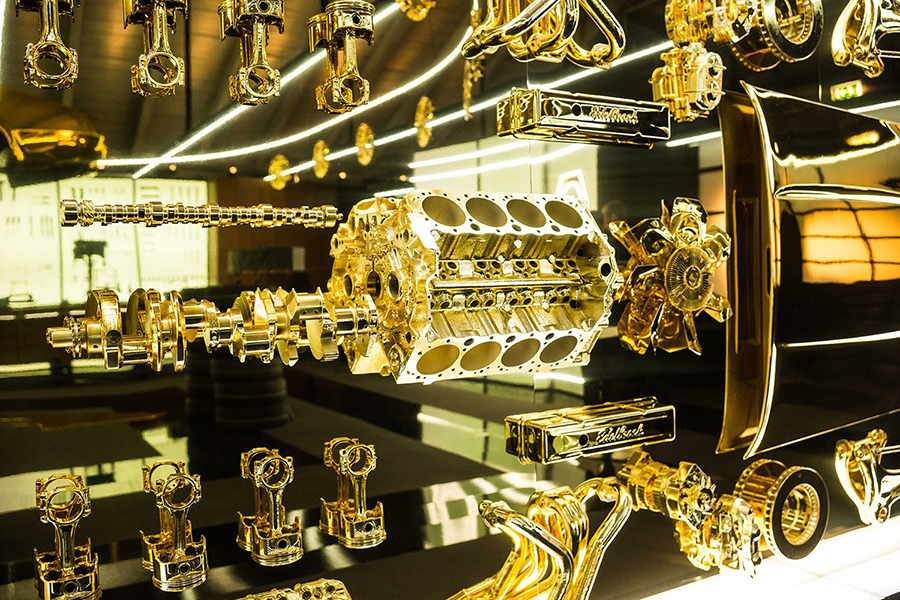 Can a garage be luxurious ? Check it out.
One of the most intriguing pop-ups in this year's Fuorisalone (one of the Salone Internazionale del Mobile events) was the Cartier Precious Garage installation.
Created by Desi Santiago, Precious Garage was an amazing mix of gold, mechanics and jewellery. Santiago used usual elements of a garage – the car, car parts, tools – and covered them all in gold creating a jewellery-like space that was a strong tribute to Cartier's universe.

Cartier's pieces of jewellery on display were from the new Juste un Clou and Écrou de Cartier collections inspired by nuts and nails, but the visual centerpiece was the gold-painted 1978 Corvette C3 hovering over the precious pieces.

Quite a visual experience !
Un garage peut-il être un lieu luxueux ? Cartier en a fait le pari.
L'un des pop-ups les plus intrigants du Fuorisalone de cette année (l'un des événements du Salone Internazionale del Mobile) était l'installation Cartier Precious Garage.
Créé par Desi Santiago, Cartier Precious Garage était un incroyable mélange d'or, de mécanique et de bijoux. Santiago a utilisé tous les éléments habituels d'un garage – la voiture, les pièces de rechange, les outils – et les a tous couverts d'or. Il a également imaginé un garage précieux, un fort hommage à l'univers de Cartier.
Les bijoux Cartier exposés provenaient des nouvelles collections Juste un Clou et Écrou de Cartier inspirées des clous et des écrous, mais la pièce maîtresse était vraiment la Corvette C3 de 1978, dorée et surplombant les pièces précieuses.
Place/ Cartier Precious Garage, Fuorisalone 2017, Milan, Italy
Architect(e)/ Artist/ Desi Santiago
Information/ The Cool Hunter