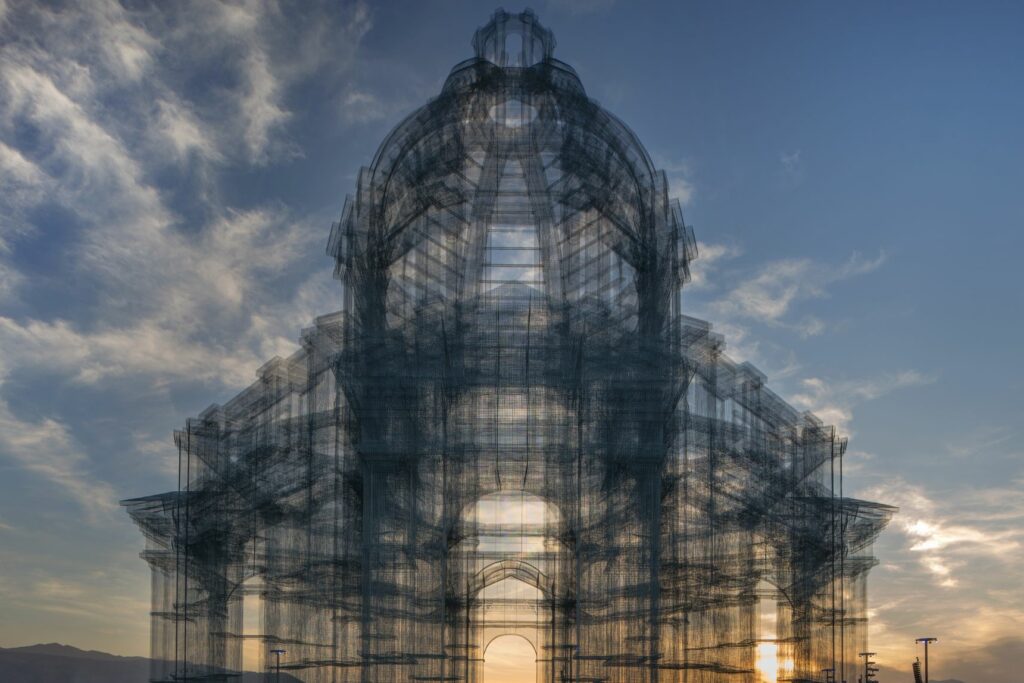 Do ghost buildings exist ? They do now.
In Coachella, the Italian artist Edoardo Tresoldi has created three neoclassical/ baroque ethereal buildings entirely in wire mesh, which is his usual work material.
The buildings measure 36, 54, and 72 feet in height and are open to visitors, who can enter them and experience changing perspectives and dimensions as they move through them. Their transparency creates a ghostly impression, as ephemeral as the music festival they are made for. A very poetic immersive experience.
Les bâtiments fantômes existent-ils ?
Au Festival de musique de Coachella, l'artiste italien Edoardo Tresoldi a créé trois bâtiments fantomatiques, néoclassiques et baroques, entièrement en treillis métallique, son matériau de prédilection.
Les bâtiments mesurent 11, 16 et 22 mètres de hauteur et sont ouverts aux festivaliers, qui peuvent y pénétrer et expérimenter des perspectives et des dimensions changeantes au fur et à mesure de la journée. Leur transparence crée une impression fantomatique, aussi éphémère que le festival de musique pour lequel ils sont faits. Une expérience immersive très poétique.
Place/ Coachella Musice Festival, Palm Springs, USA
Who/ Edoardo Tresoldi
Information/ Curbed.com