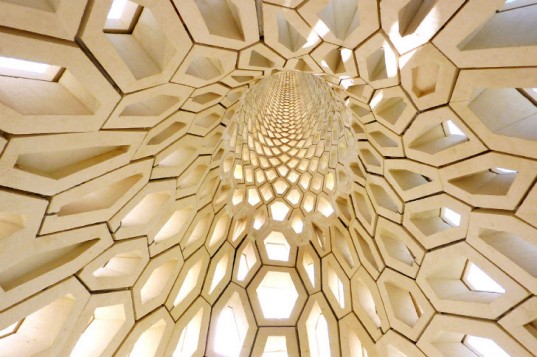 Vous êtes dans un phare. Mais un phare contemporain, crée à l'entrée du port de Thuwal en Arabie Saoudite.
Ce phare sert également de signe de reconnaissance pour l'Université de Science et de technologie du roi Abdullah située juste à côté. Sa structure, haute et allongée, est étudiée pour faire remonter rapidement l'air chaud et accueillir amplement l'air maritime plus tempéré. Et ainsi maintenir naturellement une température agréable. Cela permet à ce lieu d'être également un lieu événementiel.
You are in a lighthouse. A contemporary lighthouse created at the harbor entrance of Thuwal in Saudi Arabia.
This lighthouse is also a beacon for the King Abdullah University of Science and Technology  located at its feet. The structure, vertical and ascending, is studied to quickly push the warm air up and accommodate ample milder maritime air in. And so naturally maintain an agreeable temperature. This allows the lighthouse to be also a favorite event location.
Place/ Université de Science et de Technologie du roi Abdullah, Thuwal, Arabie Saoudite/ Saudi Arabia
Architect(e)/ Urban Art Project
Information/ Inhabitat