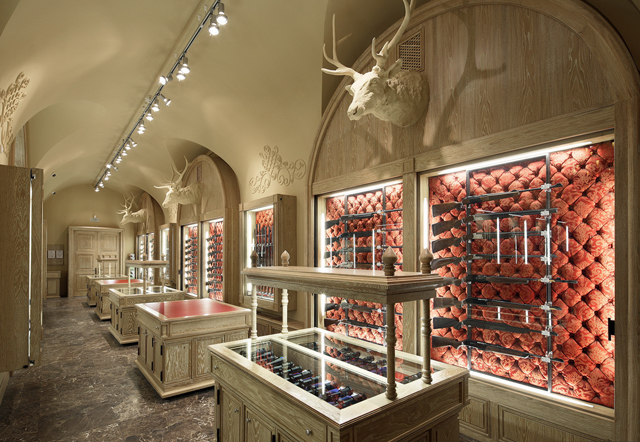 The transfer of design codes from one universe to another  is usually  a clever way to attract attention on a new place or a new brand. Pierre Hermé, appropriating the decoration and design codes of jewelery shops to sell macaroons, has been a very good example.
Here is another, quite bold, because this time jewelry shop codes are used to sell weapons: brocades, marble, sophisticated lights, displays … each jewelry codes work wonders to magnify the weapons and the shop. This design code translation feels quite relevant and well done.
Transférer les codes d'un type de lieu vers un autre pour lui donner de la personnalité est une manière habile d'attirer l'attention sur soi. Pierre Hermé, en s'appropriant les codes des bijouteries pour vendre des macarons, en a été un bel exemple.
En voici un autre, assez original car cette fois-ci, c'est pour vendre des armes que les codes de la joaillerie sont choisis: brocards, marbres, lumières sophistiquées, présentoirs… tous les codes des bijoux fonctionnent à merveille pour magnifier ces armes. Une translation d'univers de lieu assez pertinente et bien réalisée.
Place/ Kolchugas Weapon Salon, Moscow, Russia
Photograph(e)/ Sergey Morguno
Architect(e)/ Archpoint
Information/ Knstrct