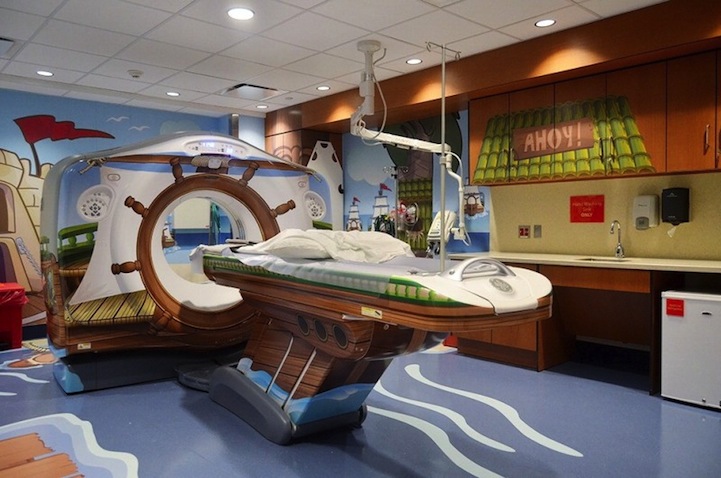 If you think you are in one of the latest Disney attraction, you are all wrong. Even if the decoration of this room is exactly meant to have you think about that. Because this place is the CT scanner room of the Morgan Stanley Children's Hospital of NewYork-Presbyterian.
Scanner rooms, as well as any technical machinery, can be very traumatic to children and this pirate-theme room is meant to distress and relax children. And it works wonders ! Another proof that adapting a place to a specific target can help reach the place's objectives in a better, quicker and more efficient way.
Si vous pensez que vous êtes dans l'une des derniers attraction Disney, vous vous trompez du tout au tout! Même si la décoration de cette pièce a été crée pour que vous pensiez cela. Parce qu'en fait, vous êtes dans la salle de scanner de l'Hôpital Pédiatrique Morgan Stanley de NewYork-Presbyterian.
Une salle et une scéance de scanner peuvent être très traumatisantes pour les enfants et cette salle inspirée du monde des pirates vise à déstresser et détendre les enfants. Et cela fonctionne à merveille! Une autre preuve que l'adaptation d'un endroit à uns cible spécifique peut aider à atteindre les objectifs d'une meilleure façon, plus rapidement et plus efficacement.
Place/ CT Scanner room, Morgan Stanley Children's Hospital of NewYork-Presbyterian, New York, USA
Information/ MyModernMet