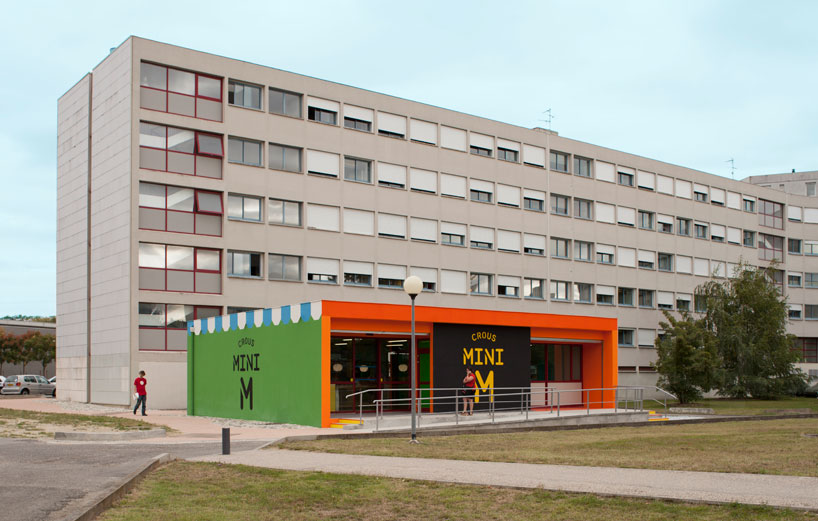 Crisis in Europe has led to some new concepts in France, especially created towards needing communities. University students are among those communities and the universities have started expanding their usual service offer to other basic needs, such as helping student getting quality, healthy everyday food. This Mini-M (for mini-market) provides the students of the Toulouse university with everything they could need at very affordable prices. And the design of the place (minimalist design, colourful impact and thrill-less product approach) is a direct translation of the objective of the place.
La crise en Europe a conduit à la création de nouveaux concepts en France, particulièrement pour les communautés dans le besoin. Les étudiants universitaires sont parmi ces communautés et les universités ont commencé à élargir leur offre de service pour les aider à accéder à des produits courants de qualité, et notamment des produits sains (fruits et légumes, nourriture…). Ce Mini-M (pour mini-marché) propose aux étudiants de l'université Toulouse  tout ce dont qu'ils pourraient avoir besoin à des prix très abordables. Et la conception du lieu (design minimaliste, univers coloré et une approche dépouillée du produit) est une traduction directe de l'objectif de l'endroit.
Another initiative in the same direction is Coca-Cola's Ekocenter project/ Une autre initiative dans la même tendance est l'Ekocenter de Coca-Cola :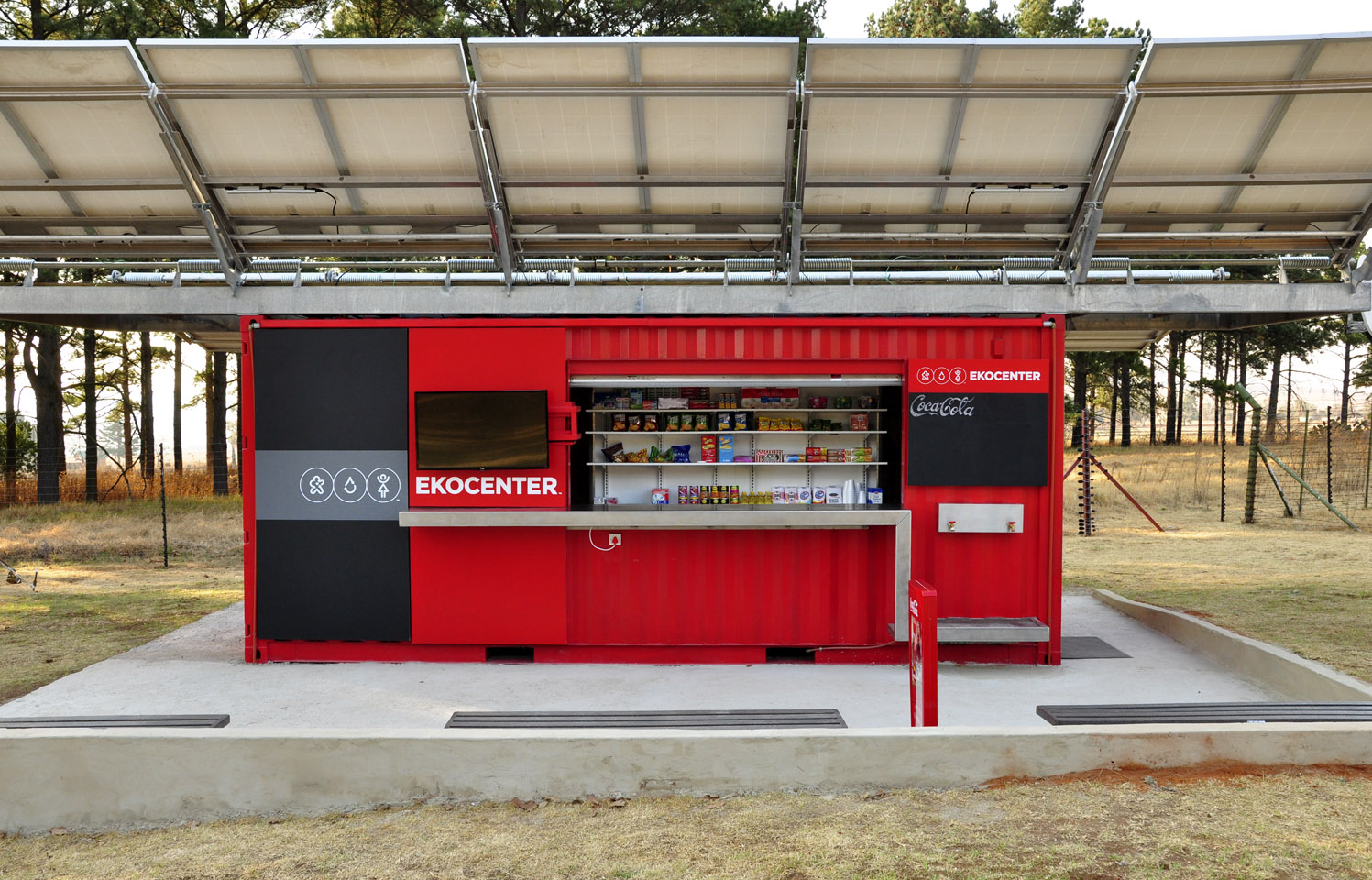 The Ekocenter project has created a simple, autonomous kiosk providing free clean water, as well as other basic services (wi-fi, electricity, meals and food) to needing communities in the world. Again, as a place concept, minimalist design, colourful impact and thrill-less product approach seem to be the rule to express the back to basics (needs) place concept environment.
Le projet Ekocenter est fondé sur la création d'un kiosque simple et autonome qui fournit de l'eau potable gratuite, ainsi que d'autres services de base (wi-fi, électricité, repas et aliments de base) aux communautés dans le besoin, dans le monde. de nouveau, en terme de concept de lieu, le design minimaliste, l'usage de la couleur, et l'approche dédramatisée du produit de nécessité, semblent être la règle pour exprimer le retour aux éléments de première nécessité dans un lieu.
Place in France/ CNOUS Mini M, Toulouse, France
Architect(e)/ Matali Crasset + Praline
Images / Matali Crasset
Information/ designboom
Place worldwide / Coca-Cola Ekocenter
Information/ PSFK