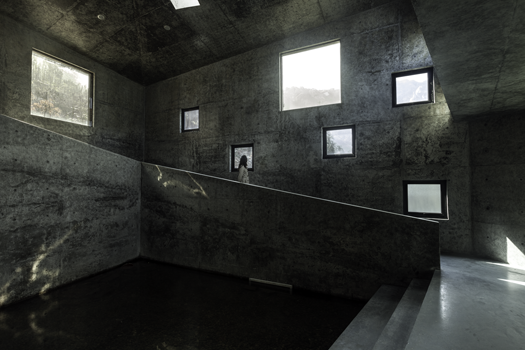 The Tianzhoushan Tea House is more than just a tea house.
It is a contemplative place to enjoy one of the 5 sacred mountain in China; it is a house completely inserted in the mountain, its shape following the waterside in front of it and the rock walls behind it; and finally, it is also a house that hosts a restaurant, a tea house, rooms for travellers and a view-point at the exact water level. A place, part of the Sacred Mountain experience, for sure !
The Tea House Tianzhoushan est plus qu'une simple maison de thé.
C'est un lieu contemplatif pour profiter de l'une des cinq montagnes sacrées de Chine; c'est une maison totalement insérée dans la montagne, dont la forme s'incurve le long de la berge et suit les parois rocheuses derrière le bâtiment; et enfin, c'est aussi une maison qui héberge un restaurant, un salon de thé, des chambres pour les voyageurs et une pièce de méditation exactement au niveau de l'eau. Ce lieu va certainement faire partie intégrant de l'expérience de la montagne sacrée.
Place/ Tianzhoushan tea house, Anhui, China/Chine
Architect(e) / Archiplein
Information/ Carnet de notes