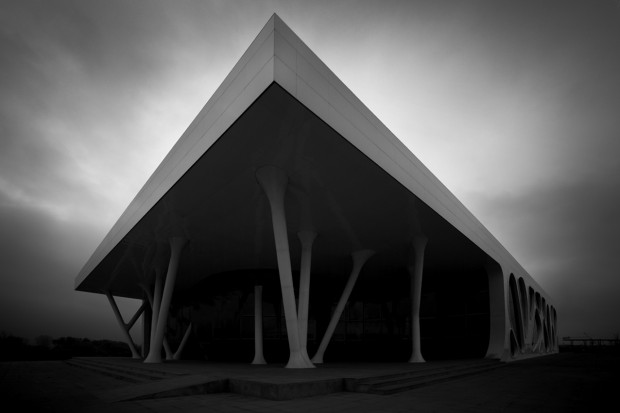 This place is an incredible mix of two opposite universes: a white ghosty form and candy colour lights. And for a ice ring … A very artistic point of view, for sure.
Since the London Olympic Games, sport buildings are incredibly creative (remember the London shooting range). Yet this ice skating ring is truly strange as it mixes two opposite colour universes. From the outside, you discover a very white and pure form, that structures an immense space in a quite martial way; and from the inside, the large colourful windows create a fun, playful atmosphere. Schizophrenic ?
Cet endroit est un incroyable mélange de deux univers opposés: une forme fantômatique blanche associée à des couleurs très "girly". Y-a-t'il un lien avec le fait que ce soit une patinoire ? La glace et le mouvement ?
Depuis les Jeux Olympiques de Londres, les bâtiments sportifs sont incroyablement créatifs (rappelez-vous le bâtiment de tir à Londres). Pourtant, cette patinoire est vraiment étrange car elle mêle deux univers opposées: De l'extérieur, vous découvrirez une forme très blanche et pure, qui structurent un espace immense d'une manière presque martiale; et de l'intérieur, les grandes fenêtres colorées créent une atmosphère enfantine, amusante et ludique. Schizophrène ?
Place/ Kayseri Ice ring/patinoire, Kayseri, Turkey/Turquie
Architect(e)/ Bahadir Kul Architects
Information/ archello