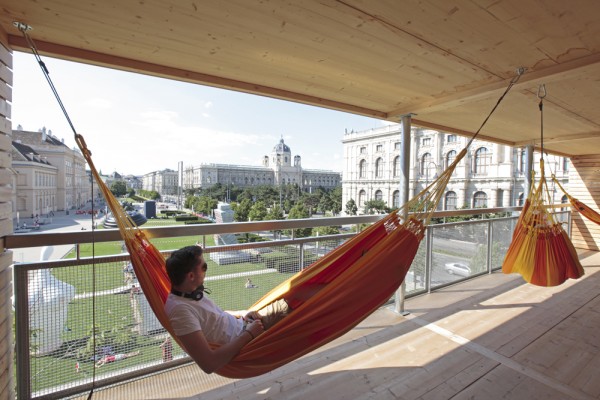 A summer nap ? What best than a hammock to enjoy it ? Well, Vienna has a solution for you …
In this open building, situated in the Museum Quarter of the city, you will find a choice of 28 hammocks on 5 floors. All of them offer great views at no cost. In fact, this building was created to encourage community life and it also leaves a large place for meeting and interacting with neighbors. A unique and fun public service !
Une bonne sieste d'été? Quoi de mieux qu'un hamac pour en profiter? Eh bien, la ville de Vienne a une proposition à vous faire.
Dans ce bâtiment totalement ouvert vers l'extérieur, situé dans le quartier des musées de la ville, vous trouverez un choix de 28 hamacs sur 5 étages. Tous offrent de superbes vues sans vous coûter quoi que ce soit. En fait, ce bâtiment a été créé pour encourager la vie communautaire et elle laisse de nombreux espaces pour la rencontre et l'interaction entre voisins. Un service public unique et amusant!
Place/ House of Hammock, Vienna
Architect(e)/ Heri & Salli
Information/ DesignTaxi