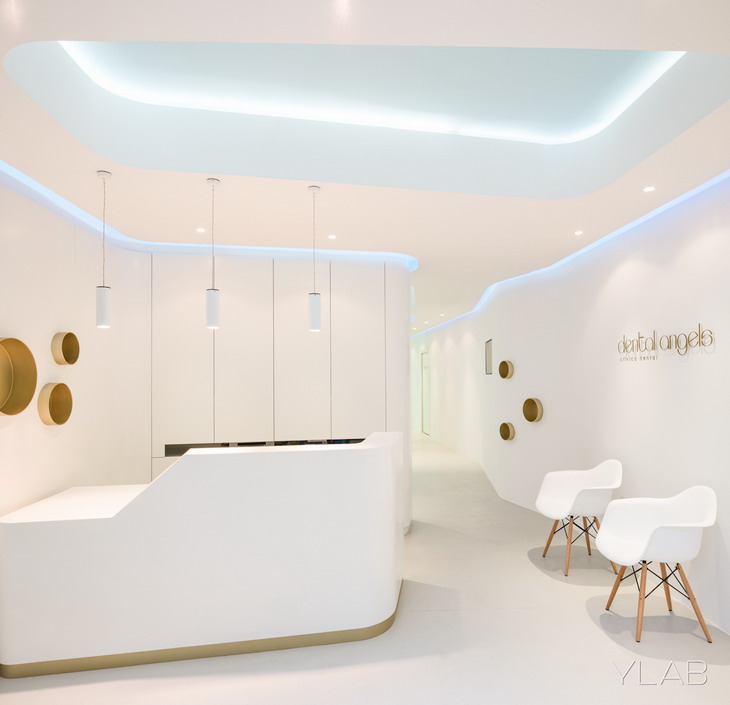 Is it because we are scared of the dentist that new practices try to be soothing and calming ? Check this incredible dentist practice in Barcelona.
Entirely white and round, the environment does its best to welcome you and calm your fears. The round walls avoid any reminder of the pikes and syringes you are going to experience. And the mix of wood and white makes the atmosphere one of the purest you can think of. All this without questioning the quality and expertise of the doctors. A great achievement for those Dental Angels.
A previous experience of calming interior design on dentist practice did take a trendier approach, while getting to the same result. See the Die PlusZahnärzte.
Est-ce parce que nous avons peur du dentiste que les nouveaux cabinets essayent d'être apaisants et calmants?
Dans ce cabinet Barcelonais, entièrement blanc et arrondi, le design intérieur fait de son mieux pour vous accueillir et calmer vos craintes. Les formes rondes évitent tout rappel aux inserts et seringues dont vous allez faire l'expérience. Et le mélange bois et blanc rend l'atmosphère aussi pure que possible. Tout cela sans mettre en doute de la qualité et l'expertise des médecins. Une grande réussite pour ces Anges Dentaires (Dental Angels).
NeoPlaces présentait déjà une expérience de design d'intérieur dans un cabinet de dentiste, un peu plus tendance, qui recherchait un résultat analogue. Découvrez le Die PlusZahnärzte.
Place/ Dental Angels, Barcelona, Spain/Espagne
Interior Design/ YLAB Arquitectos
Information/ Archiscene.com