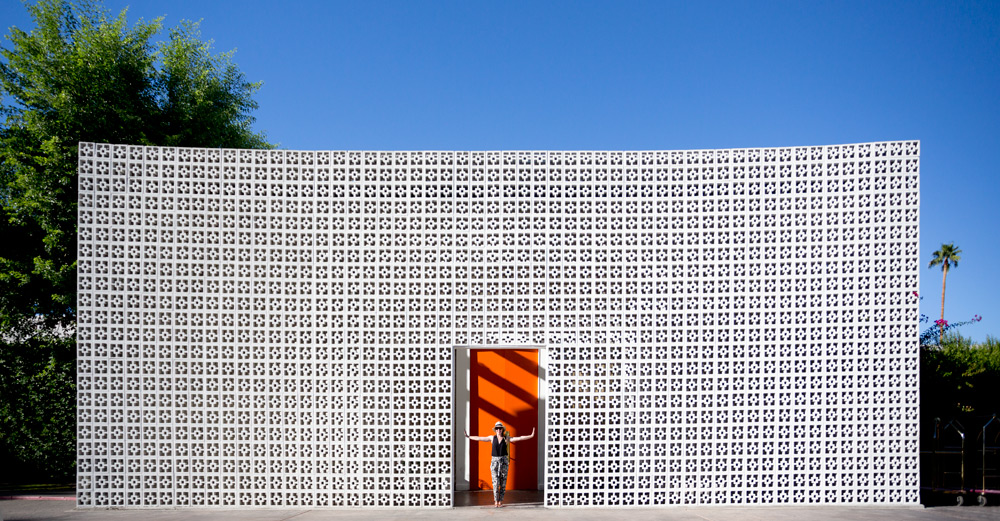 Palm Springs is the home to so many great hotels and here is one of its icons : The Parker Hotel.
Entirely redesigned in 2004, the Parker Hotel mixes rooms and villas around a pool garden. Jonathan Adler revamped the interior design as if it was our "old aunt's estate". Well, this aunt loved graphic and romantic atmosphere, blending nicely vintage peruvian textiles in a sixties feeling.  One of the favorite place for weddings in Palm Springs. Difficult to believe it once was a Holiday Inn, isn't ? Well, transforming economic hotels in Boutique properties is a tradition in Palm Springs. To discover the most recent economic hotels makeover in Palm Springs, check the December 2013 Trend Trip.
Palm Springs est la ville de tant de grands hôtels. Voici l'un de ses icônes: Le Parker Hôtel.
Entièrement repensé en 2004, l'Hôtel Parker mêle chambres et villas autour d'un grand jardin et d'une piscine. Jonathan Adler a remanié le design intérieur comme si c'était la "propriété de notre vieille tante". Eh bien, cette tante aimait les atmosphères graphiques et romantiques, intégrant des textiles péruviens d'origine dans une ambiance sixties. Un lieu de prédilection pour les mariages à Palm Springs.
Difficile de croire qu'il était autrefois un Holiday Inn. Eh bien, la transformation des hôtels économiques en hôtels Boutique est une tradition à Palm Springs. Pour découvrir les plus récentes rénovation d'hôtels économiques à Palm Springs, consultez le Trend trip de Décembre 2013.
Place/ The Parker Hotel, Palm Springs, USA
Designer / Jonathan Adler
Information/ DesignBoom