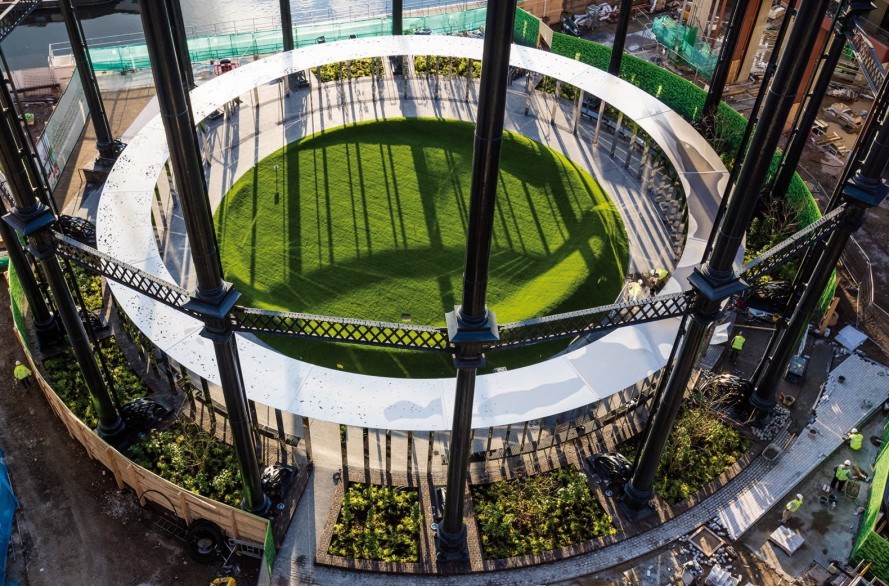 A great idea, demonstrating how old and new, how recylcing and innovating can go together !
The gasholder structure was the biggest one of London's King's Cross and was dismantled when the renovation of the are was started. To create a park and a tribute to the industrial past of the district, this beautiful area was created and is now open to the public.
A great experience, enjoying a nap in the grass amidst this 25meters circular structure. Great idea !
Voici une belle idée, qui démontre comment on peut marier magnifiquement l'ancien et le nouveau, le recyclage et la l'innovation :
Cette structure de gazomètre était la plus grand du quartier de King's Cross. Il a été démantelé lorsque la rénovation a démarré.
Pour créer un parc et un hommage au passé industriel du quartier, ce bel espace a été créé et est maintenant ouvert au public.
Une expérience très intéressant, et imaginez une sieste dans l'herbe au milieu de cette structure circulaire de 25 mètres ! Quelle belle idée.

Place / Gasholder Park, King's Cross, London, United Kingdom
Architct(e)/ Bell Phillips Architects
Information/ wallpaper