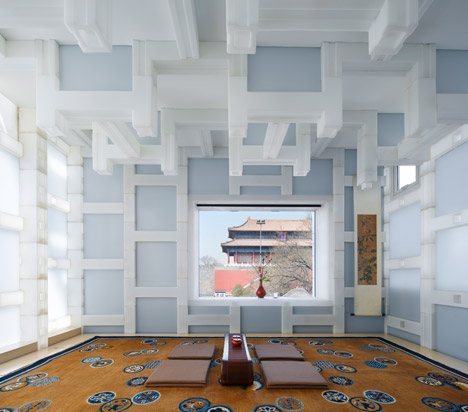 Tradition or innovation ? This place is a perfect mix between both. Check it out.
When you renovate a traditional tea house overlooking the Forbidden City in Beijing, you need to be truly strong to resist the desire to go traditional. Well, Kengo Kuma did: while respecting the form, structure and construction of the traditional chinese house, he used polyethylene plastic batons to create this surreal translucent atmosphere. Incredible sensation.
Lorsque vous rénovez une maison de thé traditionnelle donnant sur la Cité Interdite à Pékin, vous devez être fort pour résister à l'envie de faire un lieu traditionnel. Kengo Kuma a résisté: tout en respectant la forme, la structure et les systèmes de construction des maisons traditionnelles chinoises, il a utilisé du plastique polyéthylène pour créer cette atmosphère translucide et surréaliste. Une expérience incroyable.
Place/ Beijing Tea House, Beijing, China
Architect(e)/ Kengo Kuma
Information/ dezeen