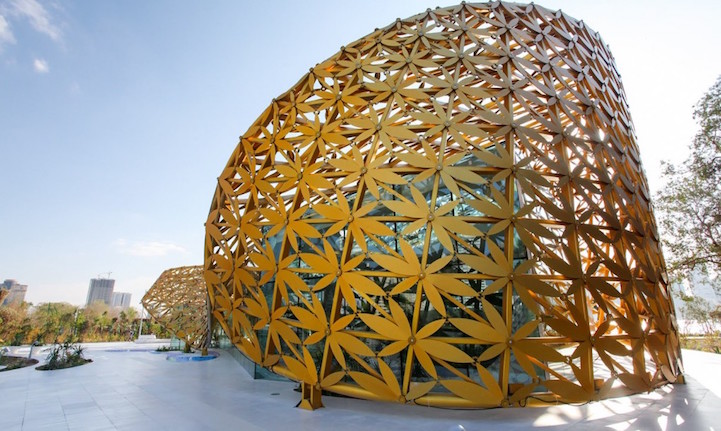 A trendy pop-up store ? A new fashion store ? Not at all. A whole natural place. Check it out.
This beautiful 4.000 golden aluminium leaves frame is the cover for a butterfly pavillion hosting more than 500 species. This roof covers a 230 square-meters glass cube hosting a complete eco-system, allowing those butterflies to live happily in the UAE. The lightness and floating sensation brought by this roof is perfectly in tune with the purpose of the building. A sensitive and sensible creation.
Un pop-up à la mode ? Un nouveau magasin couture ? Pas du tout.
Cette belle structure de 4,000 feuilles d'aluminium est la couverture d'un pavillon qui accueille plus de 500 espèces de papillons. Ce toit magnifique recouvre un cube de verre de 230 mètres carrés qui héberge un éco-système complet permettant à ces papillons de vivre heureux dans les Émirats arabes unis.
La sensation de légèreté de ce toit est parfaitement en phase avec l'objectif du lieu. Une création sensible et sensorielle.
Place/ Butterfly Pavillion, Noor Island, Sharjah, UAE
Architect(e)/ 3deluxe
Information/ inhabitat