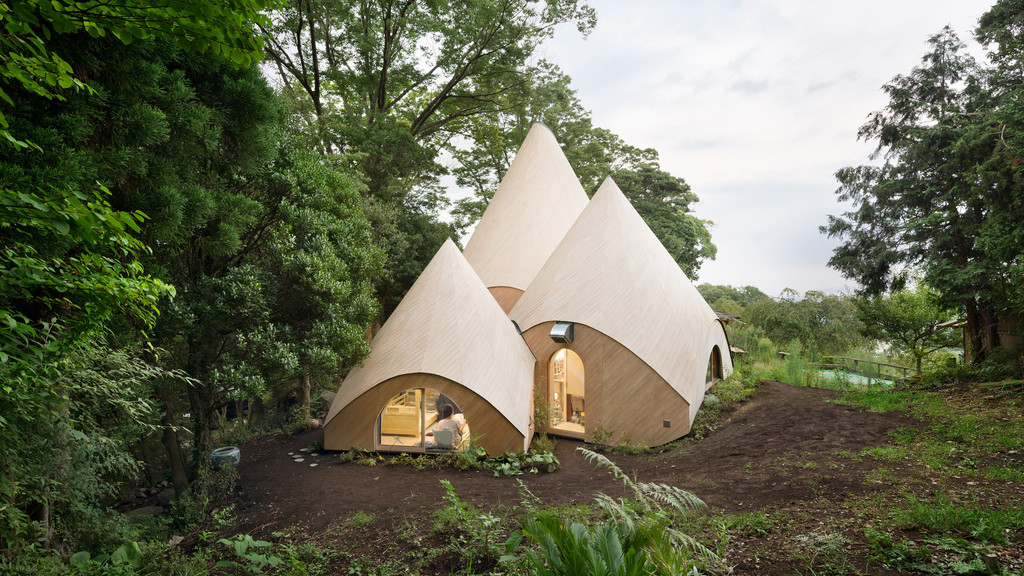 Looks like a pop-up something, doesn't it ? Well not at all. And you will never discover who it hosts. Check it out.
This incredible 5 teepees ensemble is an eldery house in Japan. Created to accommodate specifically older people, it organizes the everyday life around 5 spaces: two for shared bedrooms, one for the kitchen where delivered meals can be arranged, one for dining and one for wellbeing with a pool. This pool has a whirl-form to allow wheelchairs to go in it. When architecture adds beauty to perfect functionality !
On dirait un lieu éphémère, non? Eh bien pas du tout. Et vous ne découvrirez jamais ce qui il accueille.
Cette incroyable ensemble de 5 tipis est une maison pour personnes âgées au Japon. Créé pour accueillir spécifiquement des personnes âgées, il organise la vie de tous les jours autour de 5 espaces: deux pour des chambres partagées, un pour la cuisine où les repas livrés peuvent être préparés, un pour les repas et un pour le bien-être avec une piscine. Cette piscine incroyable a la forme d'un tourbillon pour permettre aux fauteuils roulants d'y entrer. Quand l'architecture ajoute la beauté à la fonctionnalité parfaite, c'est un plaisir !
Place/ Eldery residence, Shizuoka province, Japan
Architect(e)/ Issei Suma
Information/ Dezeen