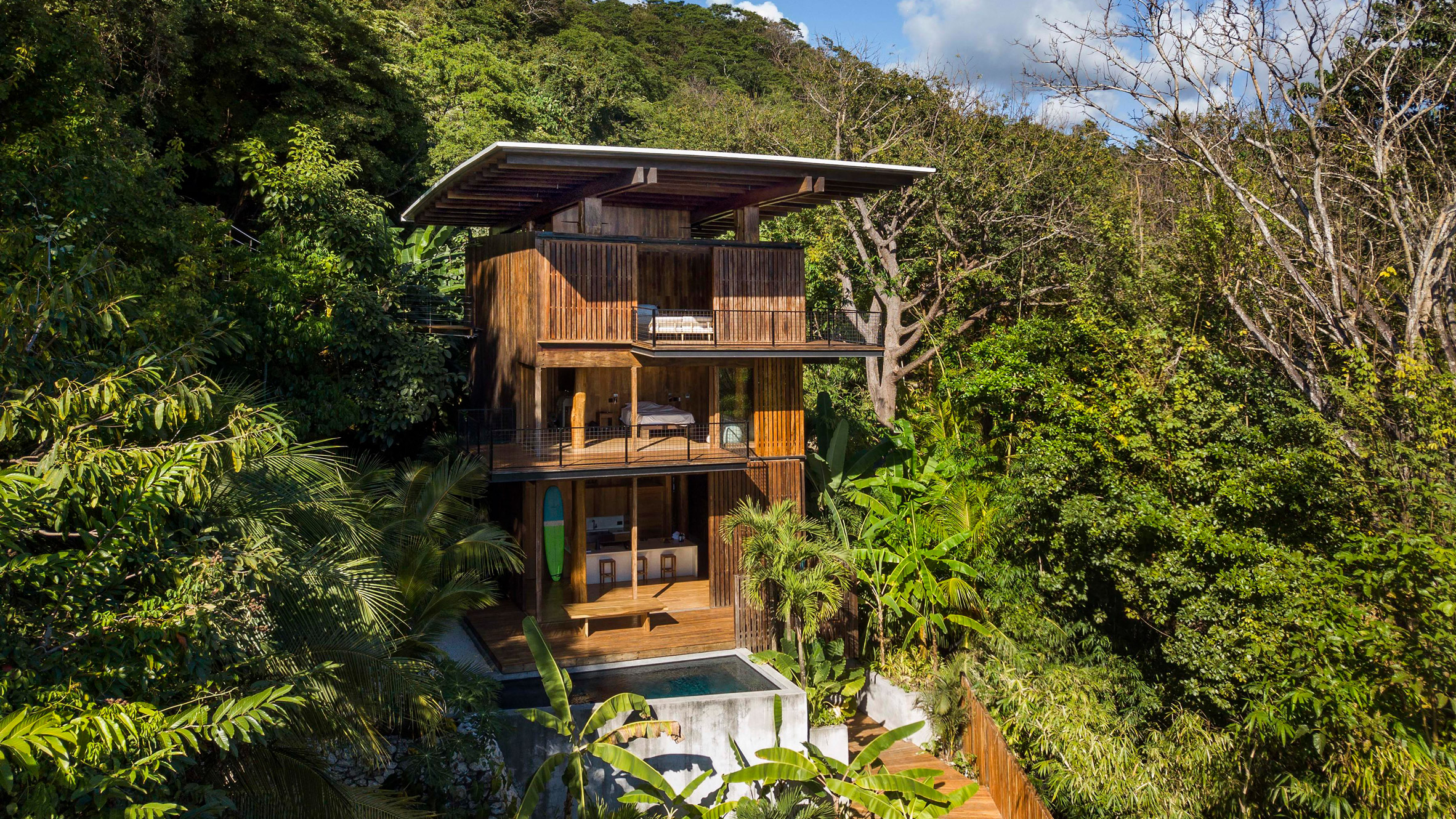 When reality demonstrates that you can create a fully ecological and amazingly beautiful house, you are happy to hear the lesson.
This Costa Rica Treehouse is located in a dense jungle near Playa Hermosa beach. The house was built for a US surfer couple.
The building was constructed using local teak and cenizaro wood. A large roof also made of wood and of metal extends beyond the building, providing shade and protection during rainstorms.
All walls consists of wooden screens that allows daylight and fresh air to flow into the house. A full open house ! In certain areas, the walls slide open and offer a direct connection to the lush natural surroundings. Only the second floor has glass windows.
At the ground level, the building merges with the forest floor, and connects to a concrete swimming pool. The main level contains an open-plan kitchen and dining area, along with storage space.
In addition to passive design features, the dwelling has a 3.5-kilowatt photovoltaic array and a rainwater collection system. Numerous sustainable elements "make the house's compact footprint even lighter on the land". A dream house for earth lovers.
Cette maison dans les arbres au Costa Rica est située dans une jungle dense, près de la plage de Playa Hermosa. La maison a été construite pour un couple de surfeurs américains.
Le bâtiment utilise du teck et du bois de cenizaro, tous deux locaux. Un grand toit également en bois et en métal s'étend au-delà du bâtiment, offrant de l'ombre et une protection contre les tempêtes.
Tous les murs sont constitués d'écrans de bois permettant à la lumière du jour et à l'air frais de pénétrer dans la maison. Une véritable maison ouverte ! Dans certaines zones, les murs s'ouvrent et offrent une connexion directe avec la nature luxuriante. Seul le deuxième étage possède des fenêtres en verre.
Au rez-de-chaussée, le bâtiment est directement en contact avec le sol de la forêt et avec la piscine en béton. Le niveau principal comprend une cuisine ouverte et une salle à manger, ainsi que des espaces de rangement.
En plus de la conception passive, l'habitation dispose d'un générateur photovoltaïque de 3,5 kilowatts et d'un système de collecte d'eau de pluie. De nombreux éléments durables "rendent l'empreinte compacte de la maison encore plus légère sur le terrain". Une maison de rêve pour les amoureux de la terre.
Place/ Private House in Costa Rica
Design / Olson Kundig Architects
Information/ Dezeen