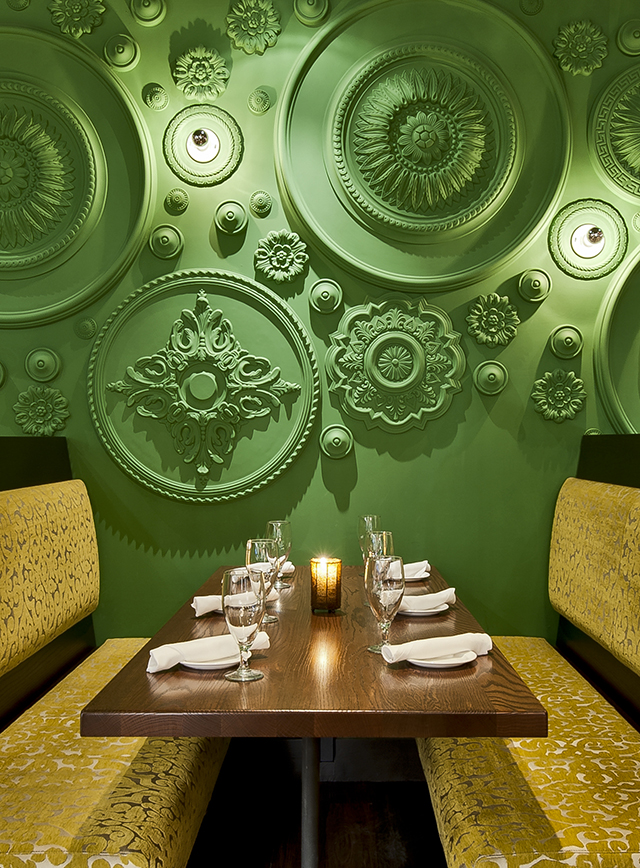 Un ovni d'architecture intérieur, bien loin de notre vision d'une restaurant italien, n'est-ce-pas ?
C'est pourtant un très bon restaurant italien, qui vient d'ouvrir à Naples… en Floride. Ceci expliquerait-il cette audace colorielle ? Dommage que la deuxième partie du restaurant soit si différente de la première. Bien sûr, les cartes sont différentes entre les deux espaces: gastronomique dans l'espace le plus sophistiqué et bistrot dans la partie plus simple. Mais à côté d'une créativité aussi pregnante, toute simplicité fait pauvre.
Quite a disruptive interior design, isn't it ? Quite far from our idea of an Italian restaurant.
Yet this is a very good Italian restaurant that just opened in Naples … Florida. Would its US base explain this colorfull boldness ? Pity that the second part of the restaurant is so different from the first. Of course, menus are different between the two spaces (gastronomic for the sophisticated one, bistro for the simple one). But when you put so much creativity into a place, anything simpler looks poor in comparison. Too bad.
Place/ Barbatella restaurant, Naples, Floride/Florida, Etats-Unis/USA
Architect(e)/ Griz Dwight
Information/ Knstrct