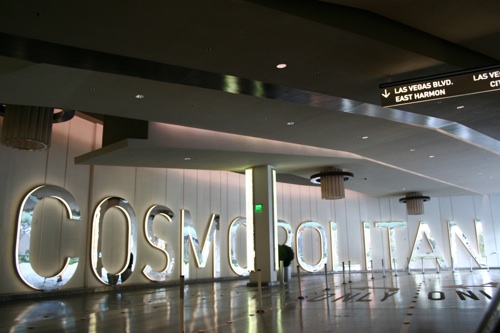 The latest addition to the Las Vegas Strip is the Cosmopolitan Hotel. The Rockwell group, owner of the place, has tried to adapt the usual Boutique codes to this 3.000 rooms hotel and the results is definitely different from the rest of the crowd, yet a bit odd in the actual sensations it creates.
The hotel entrance is quite stunning with the columns turned into giant screens, showing intriguing visuals. They serve nicely the idea of an experiential place. The registrations desks follow-up the good impression with a table decor.
Then the place turns into a long and large corridor proposing slots machines, various games (with a nice High Limit area), in a very classical Las Vegas way, and bars, including the famous "Chandelier bar". This great bar idea (a three storey "floating" bar)  is wonderfully designed but absolutely spoiled by the location as it is stacked in the center of an open rotunda, between escalators and slot machines.
The Cosmopolitan Hotel is composed of three towers, one integrating the convention center and one the restaurants and shops.
The restaurants are all placed together on two levels, the more casual on the second floor and the uptight ones on the third floor. They are surrounded by shops. This area really feels like a shopping mall, even more so, like a shopping mall food court. This is really ineffective for the customer experience. Fortunately, the restaurants are good and good-looking. I'll be going through those in another post.
The global impression is quite glitter with all those lights, dangles, reflecting walls, and projections. It feels more like a hotel than a Las Vegas Casino. Yet it would have been a better experience if, outside of the hotel entrance, it did not feel like a large luxurious shopping mall.
A summary presentation of all the trends is available on Slideshare. Just click.
Le dernier ajout au Strip de Las Vegas est l'Hôtel Cosmopolitan. Le groupe Rockwell, propriétaire des lieux, a tenté d'adapter les codes habituels des hôtels Boutique à cet hôtel de 3.000 chambres et le résultat est clairement différent du reste des hôtels-casino de Las Vegas, mais un peu inégal selon les espaces.
L'entrée de l'hôtel est tout à fait étonnante avec les colonnes transformés en écrans géants, projetant des visuels intriguants. Ils servent bien l'idée d'un lieu expérientiel. La réception poursuit la bonne impression avec un effet table très réussi.

Ensuite, le lieu se transforme en un long et large couloir proposant machines à sous, jeux divers (avec une belle salle de High Limit), à la manière très classique de Las Vegas, puis des bars, dont le célèbre "bar chandelier". Cette merveilleuse idée de bar ("flottant" sur trois étages) est merveilleusement conçu mais absolument gâté par l'emplacement car il est coincé au centre d'une rotonde ouverte, entre les escaliers mécaniques et les machines à sous.
Le Cosmopolitan est composé de trois tours, une intégrant un centre de congrès et une autre les restaurants et les boutiques.
Les restaurants sont tous réunis sur deux niveaux, les plus décontracté au deuxième étage et ceux plus chics au troisième étage. Ils sont entourés de boutiques. Cette zone ressemble vraiment à un centre commercial, voire même à un "food court" dans un centre commercial. C'est vraiment dommage pour l'expérience client. Heureusement, les restaurants sont bons et beaux. Je vous les décrirais dans un autre post.
L'impression globale est très glam avec toutes ces lumières, ces cascades de perles se reflétant sur les murs, et les projections d'image. Il ressemble plus à un hôtel qu'à un casino de Las Vegas. Pourtant, il aurait été une meilleure expérience si, à part l'entrée de l'hôtel, il n'a pas ressemblé autant à un grand centre commercial de luxe.
Une présentation synthétique des tendances observées lors de ce Trend Trip est disponible sur Slideshare. Il n'y a qu'à cliquer.
Place/ Cosmopolitan Hotel, Las Vegas, USA
Photograph/ Olivier Mordacq