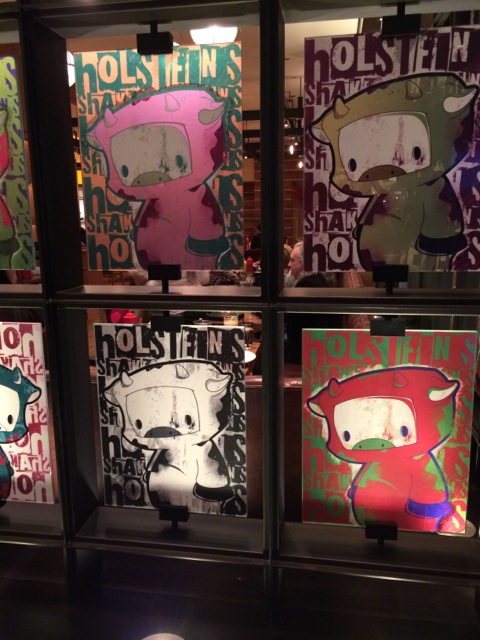 When it comes to American food, hamburgers and milkshakes are everyone's favourites. Holstein's restaurant in the Cosmopolitan Hotel is entirely dedicated to those american icons. Great hamburgers, great milkshake propositions, in a vibrant atmosphere. The restaurant is organised around large tables for parties and families, with simple furniture. The arty decoration makes the difference, with a regular renewal of imagery. When we were there, the very funny astronaut piglet was everywhere. Cute, young and good.
Too bad that the restaurant is located in the "food floor" of the Cosmopolitan. It looks like a regular food court restaurant.
Check our post on the Cosmopolitan hotel and on the next-door restaurant, the China Poblano.
A summary presentation of all the trends is available on Slideshare. Just click.
Quand il s'agit de nourriture américaine, les hamburgers et les milk-shakes sont des incontournables. Le restaurant Holsteins à l'Hôtel Cosmopolitan est entièrement dédié à ces "icônes" américaines. Grands hamburgers, beaucoup de choix de milkshakes, dans une ambiance animée. Le restaurant est organisé autour de grandes tables pour les fêtes et les familles, avec un mobilier assez simple. La décoration arty fait la différence, avec un renouvellement régulier des images autour des tables. Quand nous y étions, le porcelet astronaute très drôle était partout. Mignon, jeune et bon.
Dommage que le restaurant soit situé dans le «food floor» du Cosmopolitan. Il ressemble du coup, à un restaurant ordinaire de centre commercial.
Consultez nos articles sur l'hôtel Cosmopolitan et le restaurant voisin, le China Poblano.
Une présentation synthétique des tendances observées lors de ce Trend Trip est disponible sur Slideshare. Il n'y a qu'à cliquer.
Place/ Holstein's restaurant, Cosmopolitan hotel, Las Vegas, USA
Photograph/ Olivier Mordacq