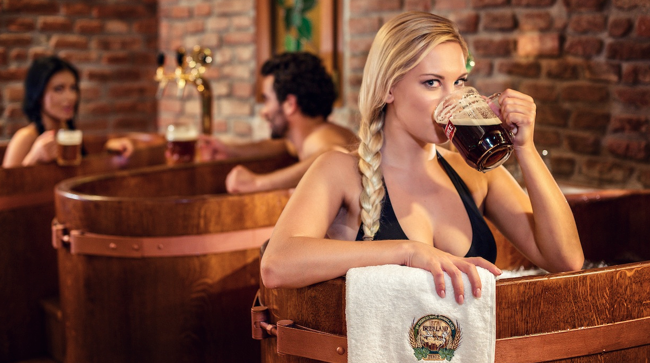 When you try to mix two kind a pleasures, you can end up in a strange place …
If you want to mix beer drinking and spa, you can choose to experience the Beer spa in Prague. Quite a place, but truly strange. Fortunately, you are not bathing in beer, but enjoying a normal spa while drinking a beer distributed directly on tap near your bathtub. Weird !
Lorsque vous essayez de mélanger deux types de plaisirs, vous pouvez vous retrouver dans un endroit étrange … Par exemple, si vous voulez mélanger boire de la bière et aller au spa, vous pouvez essayer le spa à bières à Prague. Un endroit vraiment étrange. Heureusement, vous ne vous baignez pas dans de  la bière, mais vous pouvez boire une pression fraiche, directement dans votre baignoire. Très bizarre!
Place/ Bernard Beer Spa, Prague, Czech Republic
Information/ piwee.net (in french)