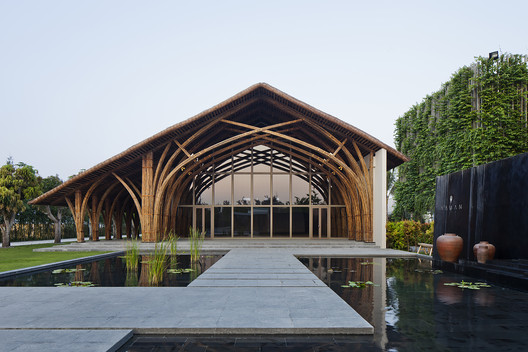 Convention centers are usually large square buildings. Fortunately other places exist. Check this one.
Vietnam is currently moving ahead in development and wonderful places are now frequently created. This convention center provides its host resort with a great hall dedicated to conferences, meetings, concerts and events. It can accommodate 300 persons. A great achievement using two kind of local bamboo.
Note that bamboo is the usual material of this architect firm. Take the time to discover their beautiful Kontrum Cafe in Vietnam.
Les centres de congrès sont généralement de grands bâtiments carrés. Heureusement d'autres endroits existent.
Le Vietnam est actuellement en plein développement et de merveilleux espaces sont de plus en plus construits.
Ce nouveau centre de convention, construit au sein d'un resort très haut de gamme, propose une très grande salle dédiée aux conférences, réunions, concerts et événements. Elle peut accueillir 300 personnes. Une grande réussite utilisant un matériau local: le bambou.
Notez que le bambou est le matériau habituel de ce cabinet d'architecte. Prenez le temps de découvrir leur très beau café Kontrum au Vietnam.
Place/ Naman Retreat Conference Hall, Danang, Vietnam
Architect(e)/ Vo Trong Nghia Architects
Information/ Architect Magazine